10 ways to freshen your home for Spring!
Bring in fresh flowers
Make it feel lively like spring no matter what the weather is outisde. Fresh cut flowers instantly brighten your space, making it colorful and welcoming. It is an easy way to announce trendy and vivid colors that you don't need to promise forever. You can swap them out to keep that fresh look.
---
A fresh coat of paint 
Spring is right around the corner. With spring comes longer days, warm weather, and of course, that dreadful spring cleaning. As you start to reorganize, rejuvenate, and tidy up your home or business for the upcoming months, remember, nothing leaves a better impression than a fresh coat of paint.
Spring is a time of new beginnings, it's the ideal time to paint exteriors also, because the temperature is fitting for the paint to properly settle and dry. So, don't miss this time to get and enjoy the beautiful weather and get the best results on your home or business exterior.
---
Update your pillows 
Restyling the pillows on your sofa can totally transform a room.  Throw pillows are inexpensive and easy to change out. You can revamp the entire room by swapping out the darker colors you may have had for winter and add some light, vivid, detailed fabrics in place.
---
Bright napkins and place-mats 
Bright colors are certainly a sign of spring and warming temperatures. Embrace them by swapping out those dark table linens and replace them with more vibrant options. Mix and match these vibrant napkins and place mats on your dining or kitchen table to instantly enliven up the space.
---
De-clutter and organize 
Take a few minutes and just take all the accessories and knick knacks out of a room and try adding things back in slowly and purposely.  In winter we tend to have a good amount of decorations, photos and accessories out so why not put all those away for a bit and see how you feel with a more essential and simple space.
---
Swap a heavy duvet for a light blanket 
"Welcome Spring, and treat yourself! Pick up a new duvet and shams to brighten up that room. This will not only bring color to your space, but help motivate you to make your bed everyday!
---
Open everything up 
Even though it is still a little cool, open up all those blinds and windows and feel that fresh air and sunshine sway inside. This little step lets out all the stuffy air from winter out and brings in the freshness of Spring.
---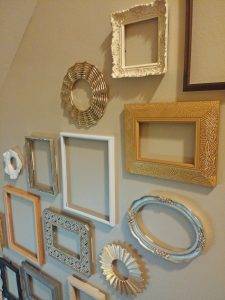 Fresh frames                                    
Revitalize an existing gallery wall by painting wooden frames with varying springtime shades, like pink, cerulean, and sunny yellow.
---
 Add string lights to your patio 
Complement those lengthy, laid back evenings on the patio with the true lighting. From subtle landscape lighting and string lights that give off soft glow to sconces, pendants and more, these ideas will help spark your imagination and plan that perfect patio.Nothing beats the delicate, glowing light of café-style lights strung overhead, and because they inexpensive, you can use them lavishly without denting that monthly budget.
---
Make something old new again 
It's that season! DIY crafts and giving old furniture a second chance at life are perfect for spring. Find an old tired brass chandelier at a thrift shop or antiques store and spray paint it the color of your choosing.
Categories: Flowers, Fresh, Interiors, Lively, Paint, Adding design, Adding spice., color!, Outdoors, Changing it up, Cozy, Decorating | Posted: 03/06/2016