A curtain for that wide open, simple and elegant look!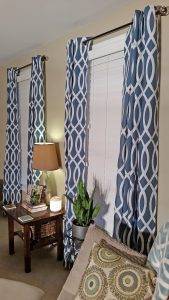 Floor length curtains are great when your desires leans towards that classy and bigger look. Floor length curtains, go from about an inch above the frame of a window, down towards the floor and stop about an inch above the floor or just lightly touching the floor. These flowing curtains help your window to feel large, tall and open. This is a result of each side of the curtain being open to see the lengthy window, whether it is more of a wide or long style, as compared to the way sill length curtains appear. But at the same time, sill length curtains also have great benefits... which I will discuss in an article at a later time.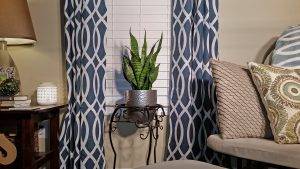 These work wonderful in living rooms, guest rooms, and dining rooms. Currently this curtain style is a very popular choice for elegant room designs. Leave them drawn half open for a great amount of light in the room, lively feeling, as well as being opened fully for a clean yet beautiful look. Floor length curtains can be purchased about anywhere, in practically unlimited colors and designs... Department stores are a great place to start your search, so go out and browse your local Home Goods, Ikea, TJ Max, Walmart, Kmart, Marshall's, Pier 1 or Target! Your options are endless.
Categories: Adding design, color!, Cozy, Decorating, Interior Design | Posted: 01/19/2016