A fluffy and cozy bed!
It's been a while, that I have been on here, I'm sorry! But I am excited to share with you, I finally found the duo for our bed! I will be completely honest, I struggled with knowing how to get that "fluffy" look, like Brooke w/ "nesting with grace" had. After reading her blog and doing more research we found an affordable queen sized duvet cover and added a king sized insert inside the cover... DONE!!! That did the trick!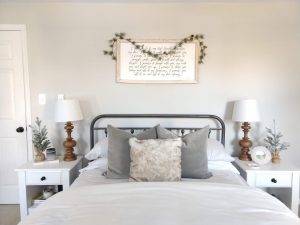 And guess what?! They both were purchased off Amazon! Talk about affordable!!! Here is the link to the duvet cover. When we first received it, and I saw the package, I was dissapointed... I was like "it has to be bigger than this." But opening it and feeling the material, was ah so soothing! It was so soft, and pure white with cute buttons across the whole bottom and ties at the corners to enclose the insert. The duvet insert was huge out of the package, at first I wasn't sure that it was going to fit inside our queen cover. But it did, and I am so glad it did!!! Once the insert was placed inside the cover, it was perfect! The comforter is so fluffy on our bed and instead of it looking like there isn't much, and super flat... It has more dimension! The cover set included 2 shams which are currently not being used, and that is because: 1. We don't feel we need more pillows right now. 2. We need 2 bigger pillows to accurately fill the sham size.
I promise you, there are sneaky ways to purchase bigger items like this for a better price! It isn't always about the big companies, stores etc. It's about creating a space that you envision, within a budget! When I was doing my research a lot of the covers and inserts I found higher interest in were on amazon. They have a vast selection and you can't beat their prices!  Any questions or thoughts on purchasing similar items? Please contact me!
Thanks for reading, Happy Friday!!!
Categories: bedding, Changing it up, Budget friendly, Christmas, Cozy, Decorating, DIY, Farmhouse style, Home_and_living, Inpsiration, Interior Design, Neutrals, Simple | Posted: 11/22/2019