A simple outdoor Christmas 2019
Some of us feel pressured or encouraged to do more and more every year with all new great ideas for Christmas. And that is ok, but know it's also ok if we aren't up to 100% with everyone else as far as how they are decorating, what they are doing to decorate, or how much they are fully  decorating.
So, this year we changed up the decor outside our home for Christmas, and I love it!!! We changed our wreaths this year to something more neutral, and honestly, I like it so much better specifically for our home.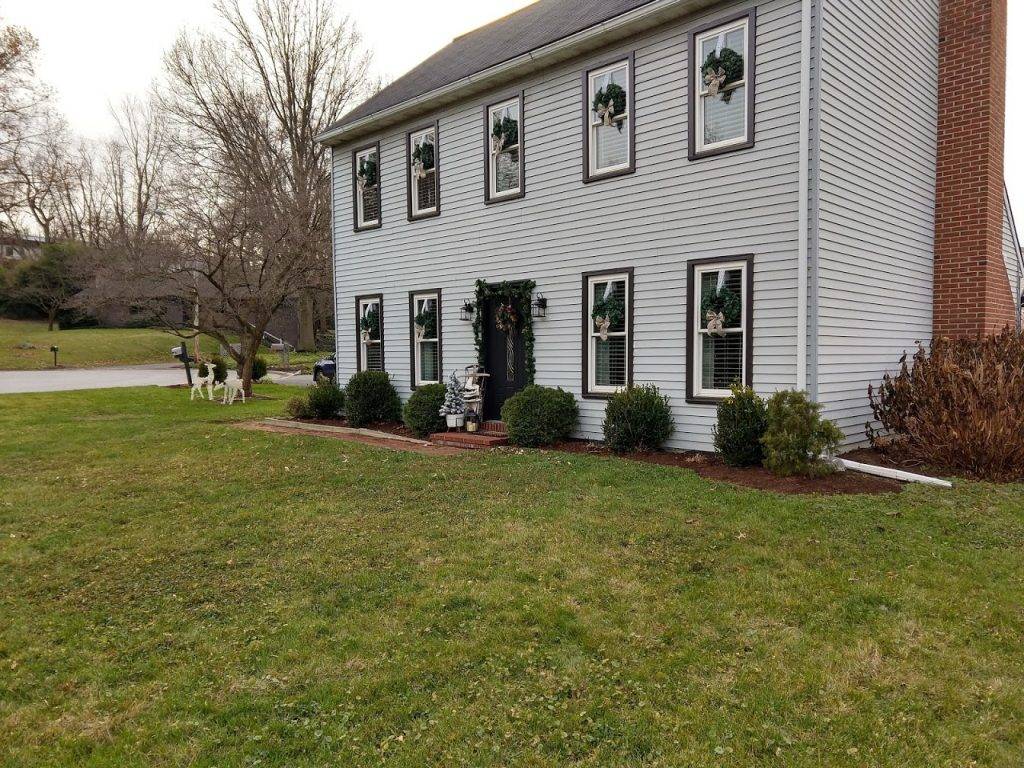 On black Friday we zipped down to Kmart, and they had a great selection of ribbon and bows! Nine bows, and 2 spools of ribbon (I could not locate online the exact color, but it's this exact thing but in white) for $21.44!!! That is 50% off what we would have spent. We simply attached the bows to the wreaths by using the attached wire already there and looping it around and then twisting like, a thousand times! The ribbon I cut to length and then looped around the wreaths and held through the window at the top to hold. Just the extra ribbon being held inside at the top by the window keeps them very secure during weather conditions.
The Front Porch
I will say one thing, I wish so badly that what I had was a big wrap around porch. I have probably said that in so many blogs, but it's true! My husband and I said if we decide to stay (since we love this area so much) then we would add on, this is a must! One day!!!
Our sweet little porch looks a little different this year! Last year I added a metal bucket and placed some wood pieces in it with a lantern aside. This year I took the metal bucket away and added a super cute petite 2.5 ft, flocked tree in my barn bucket on legs. That is one that I just absolutely adore since I've bought it at a barn sale. Aside is a lantern with outdoor, waterproof remote controlled candles that I purchased from amazon! I've always had bad luck with candles going bad with weather conditions. But so far so good, they are holding strong!
A Quick Side Note!
The lantern previously was so rusted and faded from hard use. So instead of going out and buying a new one, I simply taped off the glass and used black exterior spray paint that we already had on hand.
And instead of placing the wreath on the sled this year, I just left the skates. And I am so thankful I did! It's more simple and doesn't look overbearing as much. I like how much more visible the skates are now too.
This year I am just so happy with how everything turned out for our porch. It's simplicity and cuteness in one just makes me feel at ease and giddy on the inside! :)
Our side tree, front and side bushes have lighting on and the deer were placed.
Deer - As much as I love the deer, I didn't like the lighting on them.... It was like a led blue undertone and it just didn't go with the rest of our warm white lighting. So this year Peter took all those lights off and added white lighting, it made a big difference, and was easier than what we anticipated.
What's missing??? We excluded the lit walkway this year. As much as I love it, sometimes it can be a pain.  The walkway included stakes in the ground that held strands of lights that formed the brick pathway. It's actually funny because when the dogs were let out, they would either trip or have to find a way to hop over them. So not only the time it took to put them up, but they were in the way for the dogs, so we decided to not put them up this year.
I hope you enjoyed our "Simple outdoor Christmas 2019", thanks for reading!! Stay tuned for another blog coming your way on our indoor decor:)
Categories: exterior, Outdoors, Christmas, Cozy, Decorating, DIY, Farmhouse style, Holidays, Home_and_living, Inpsiration, Interior Design, Seasonal, Simple, Small space squad | Posted: 12/06/2019