A coffee buffet transformation!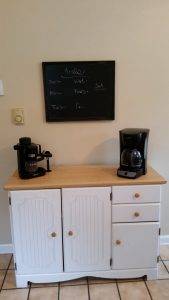 This is the before!
This kitchen is coming a long way! This specific project, is by far my favorite so far!! A white coffee buffet table that sits in front of a pasty tan wall, and was treated with an oak finish on the top of the cabinet and the knobs were oak as well. We simply use this for storage, as well as having an espresso maker and our coffee maker on top as well. Our piece of decoration we used was, a great thrift find, a chalkboard in which to present our week's meal plan.
After: What an improvement!    
This buffet gets a fresh start with a flat finish grey painted top, and beautiful dark bronze knobs with a hint of gold ring on the outer edges. Situated on-top of the buffet is an industrial designed wire like tray, that is housing 2 glass storage containers with a smooth and classic chalkboard sticker attached. Aside is a charming mix of green and brown speckled bird, with a tea light resting on it's back giving off that extra hint of light in the kitchen.
Directly above the buffet is that awesome thrift find mentioned earlier, but this time it is used as a simple and clean decorative element. Positioned along the top of the chalkboard is one of my favorites to this project, an artificial sweet Eucalyptus wreath with a burlap bow adding that shabby-chic feel. The final piece that I think sets off this transformation is the industrial shelf, distressed with a black metal, as well as a wood shelf that boast four wired baskets and eight metal hooks for displaying coffee mugs. This is not only is a wonderful accent of the industrial and shabby-chic decor to the room, but it also serves for an everyday practical use. Providing storage, and of course, showcasing those extra touches to our room. The hooks can be used to display your coffee mugs or decorative items! For right now they are not in use as the wreath and chalkboard are serving as a great decorative element below the shelf, and fill that space. Overhead are four sturdy baskets that sit within the shelf, and currently two of those baskets are filled with coffee and hot chocolate.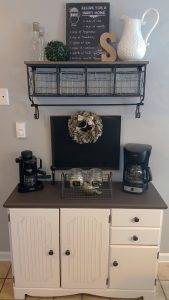 Last, but definitely not least... atop of this masterpiece are what I believe what finishes of the entire look of this kitchen transformation and helps to demonstrate what this home is filled with. I think the two big focal points on top of this shelf are both the "recipe for a happy home" sign and the gorgeous white-ceramic pitcher, which is covered in elegant detail. Aside of these two focal points are their "accents". From the left, there are two different height vases with a slim covering of twine wrapped at the opening, a vibrant long leaf boxwood ball, and on the opposite side sits a wooden S as a signature for the family's name.
All-in-all, this was a fun project, with a beautiful result!
---
" row_height=225 uuid="0958a70e1f6a8ceae4302baa60c8cbcc"][/gallery_standalone]
Posted: 01/29/2016