A kitchen facelift!
Who likes the feeling of something that is clean, organized and looks so pretty? Me, I do!!!
Jan 11th, was my last day of clinical rotation for becoming a Physical Therapist Assistant! So this past week I took the whole week off from other work to focus on the home and it felt SO good because I got so much done!!! This includes giving our kitchen a face lift.
Steps to refreshing our space:
 Before we started any of the "face lifting phase" we went through everything, anything we have not used for a long time. Towels, kitchen utensils that were rusty, our large collection of mugs, and more were either donated or pitched.
Repainting the cabinets, inside and out (allowing a full day to dry), with "gallery white" by Behr paint. After the paint was fully dried we used a sealer.
We purchased these awesome, kitchen-made organization containers from Home goods and Marshalls. (the one tagged is exactly what we have, let me promise you that they ranged between $4-$8 NOT $20). For our kitchen we purchased these Simply kitchen shelf organizers for our refrigerator, and it made such a big difference! These also were purchased at Marshalls (depending on size ranged from $4-$8 each)
Then we applied Easy Liner to each shelf allowing protection for the shelving, bought at Walmart for such an affordable price.
Lastly, I organized and placed all the items back accordingly into the cabinets... Some of you may be asking how did I organize them back?
Organizing and placing items into the purchased containers:
I will start out by sharing that we have a wonderful extra shelf for food space storage located in our garage! So we do have a whole other space that we have extra food stored that either we like to keep extra on hand for, or are just bigger items that don't have the right amount of space for in the kitchen. So while going through all the food items, I put aside (to put in the garage) items that we had more than one of, and items that we don't use much of (that also obviously have dates that weren't going to expire anytime soon).
As far as our main cabinet: On the main shelf that we use (middle shelf) I placed the popular items we use and organized accordingly to what it was used for: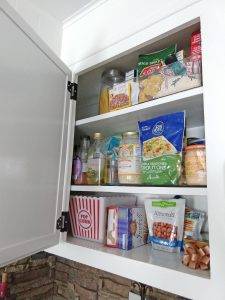 Example: all canned items in one container, all oils in another.
On the other shelves: For the upper shelf (in which were things we didn't use often) we arranged, boxed items in one container, took spaghetti out of the boxes and put inside a taller container (because the boxes were taking up space), and breakfast items. The lower shelf holds our snack items.
As for our refrigerator, like I had mentioned above, we also used the shelf organizers. Instead of the fruit and veggies staying in their big plastic bags from the store, they are now organized separately in the containers, including fruit cups/yogurts. Wow, what a difference!
After it was all said and done, walking into the kitchen felt so good! It looks so bright, and opening the cabinets and refrigerator, instantly gives off an organized and clean feeling, and nothing is crowded or too full. SIMPLE is the word I like to use!
Thanks for reading!
Posted: 02/11/2019