A whole new hallway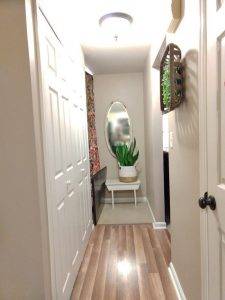 Oh man, this hallway was always tricky, I don't think I ever was quite satisfied with how this space was decorated. I think I felt that way because it's not all that big, so I had limited space to work with and didn't exactly know what to put there so it would flow with the rest of the downstairs. I thought the oval mirror with an antique white bench and a big snake plant occupying it was a good filler for a good bit of time, till I saw some ideas that I instantly loved and wanted to create myself!
While currently redoing our back room, the plan was to shiplap the accent wall (so while we had that in plan why not order a little extra to finish off the end of the hallway?!)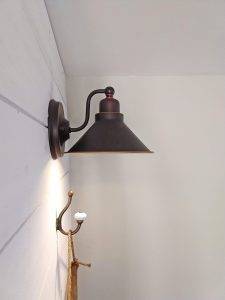 On top of the shiplap we placed a detailed hook to place our canvas wall hanging from smallwoods. Living in a 1,300 sq foot home, this canvas is perfect for us, we take it to heart. And how about that saweett barn light?! Oh I am so in love, it adds so much to the space! Thanks to Wayfair this light was the perfect fit for the space. Taking away the antique white bench we added a beautiful wooden stool purchased from home goods. Being that our snake plant is occupied in a good sized basket, I was a little nervous about finding a bigger stool that was a perfect height (nothing too tall) and wide enough, and of course you always find something when you walk into a store not looking for anything in particular! Homegoods is pretty good about having a good quantity of each product, even though they aren't all exactly the same thing.
ps.... That's why it's one of my favs!
The really cool part about this redo, is the wall light sitting above, a "hockey puck" light is used,This light was not hooked up to electric! Inside where the light bulb would be, is the light inserted and managed by a remote control! This light gives off a soft "nightlight" type lighting in the late evening hours= "The magic light trick" again thanks to "Nesting with Grace"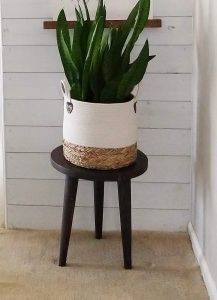 You may see that it looks like there needs to be something at the ceiling above the light, yes you're right! We are planning to put crown molding throughout the house starting in the back room. We also are planning to lay down flooring once the built in book shelf is completed, which will be very soon!!!
Your probably thinking, hmm about how much did this all cost?
Well I will give you the breakdown:
Shiplap under $80
Hook $2
Canvas $35
Stool $15
Light $30
Walking into the hallway from the garage, it's just a whole new feeling! A feeling that means, a house that is slowly turning into a home with lots of love given to it!
Thanks for reading, until next time.
Posted: 03/05/2019