Our new handcrafted farmhouse table!
Hi Friends! How many of you have either custom designed a table or went off a template?! Well we did a mix, and I am in love!
Previously we were using my husbands table that he brought from his apartment, which given graciously from friends of ours. Although it was a great use in our kitchen, we were ready for an upgrade!
First, I have to tell you, Peter and I were talking about a new table for some time, and then one night I walked in the garage after arriving home from class and found the base of the table  had already been built. Talk about an amazingly talented husband!!!
We originally were looking to buy a table set with a design we had in mind. After much time and consideration, we found they were way too costly and were sure that we could make our own and it look like the same once replicated. And we were right!!! Now..... I am a pretty particular person, but after building and finishing our table I feel that my particulars wore off a bit. Nowadays, the tables you order from online and buy in the stores you don't see all the screws marks or have some rough edges on the wood, but we do, and I have grown to love it! It's just one of many special touches this table brings to our home.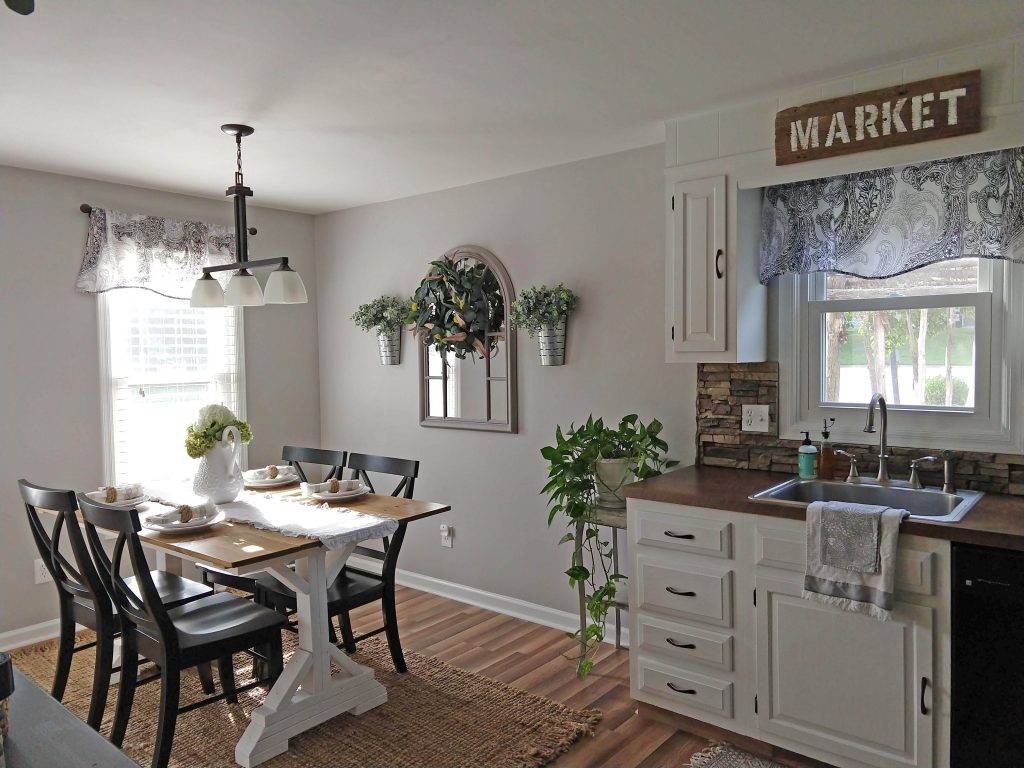 So what was the plan that my husband used to create the table? Ultimately, there was no plan, just a bunch of different inspirational ideas. The general concept came form this table design. Then from here he sketched out a couple of measurements (based on our needed space) of his own making on paper, then began to make the whole thing from that. Fist he created the legs using only 2"x4" boards, which were later painted white. after they were finished, the topper needed to be made, so he bought multiple pieces of display pine wood, cut it to size, then connected them all with screws. Lastly, he stained and put on a clear-coat to the wood giving it a beautiful appearance. Done! All together this table costed roughly $120, and that includes all the wood, paint, stain, screws, brushes, with plenty extra to spare.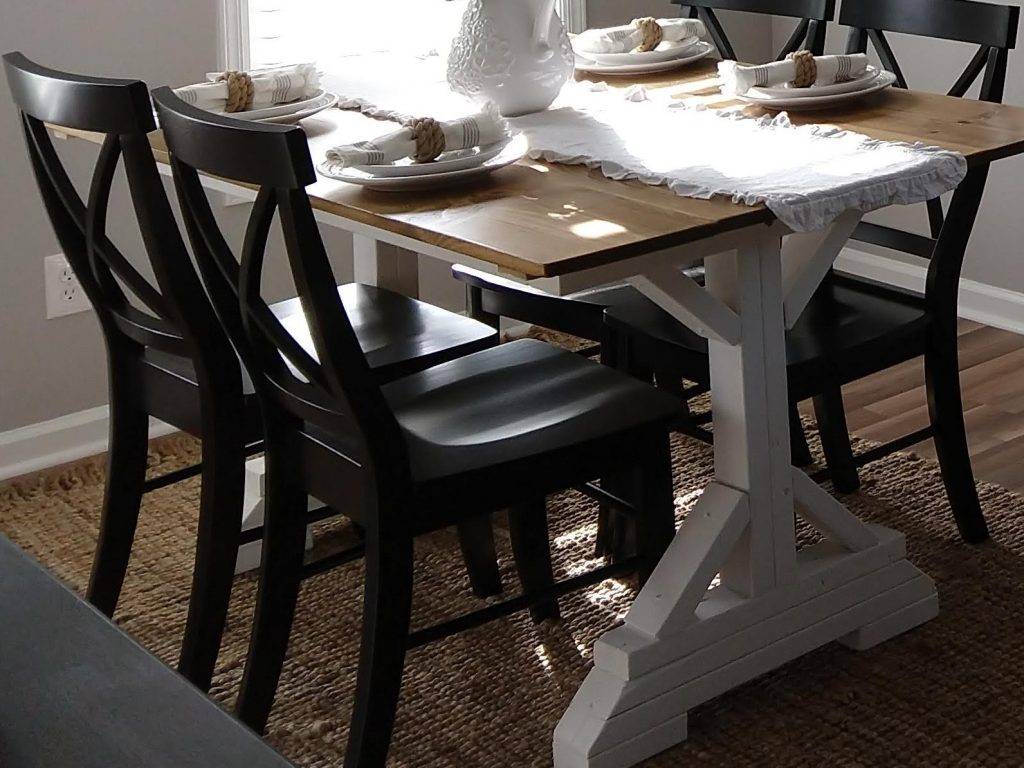 Questions the Decorator may be asked:
How did you make the decision to go with the black swayback chairs? Well, I already had in mind I wanted a black chair to pop with the grey and go along with the light hanging above the table. My husband also likes the modern look, and so when I came across these I knew instantly these would fit perfectly into our space!
 How about that gorgeous area rug that compliments your flooring? That is a beautiful and comfy Handmade Braided Natural Jute Reversible rug purchased from Wayfair!

How did you know what design to go with for your table? I have seen many table designs for a farmhouse style home. I love them all, but I wanted something simple and that would fit perfect in our space and not be too overbearing. For this design we integrated one design from 2 different templates we have been researching. (see above for the link)
 How many coats of stain did you apply to the table top? We first used a coat of pre-stain. After that, applied to the table top is just one coat of stain! Yes friends only one coat of stain, I originally thought about 3 coats (not too light, not too dark)! But I was wrong, as soon as the 1st coat dried completely, I knew there was going to be no more.
The stain turned out to be a beautiful, smooth pine that allowed all the knots to show their detail, and because each piece of wood has it's own unique appearance, our table has a variety of browns enriching it.
Here is the final project!
" row_height=225 uuid="d142851b83ac21cef20299ae4f7807fc"][/gallery_standalone]
If you have any questions, or any interest for a consult to change up your kitchen including your table please contact me, I would love to help!
Posted: 08/16/2018