Our Tiny Coat Closet DIY
Winter has approached us, so I thought it would be the perfect time to give our coat closet a much needed face lift. This little one between the garage door and our kitchen needed a lot of love and some organization.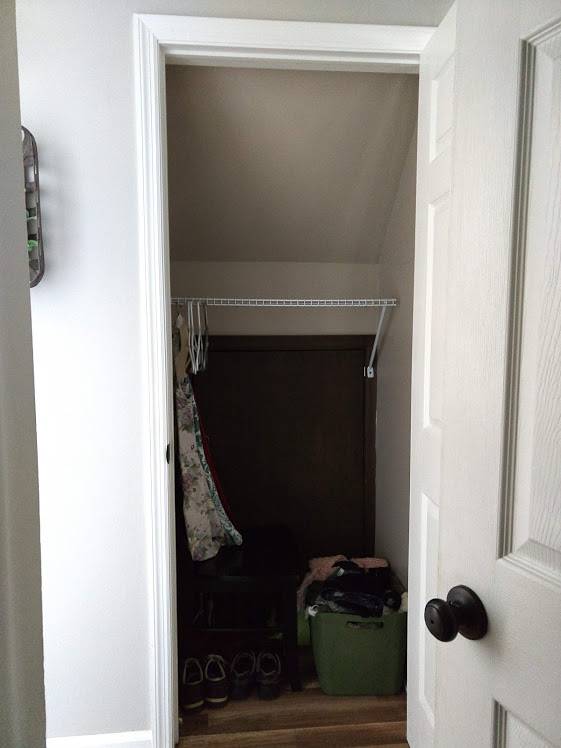 This past week we drew up a plan and got right to work and within 2 weeks our new coat closet looked more alive! The first thing we did was take down the old shelving and applied the beadboard, cut it to size and attached to the walls with hammer and nails.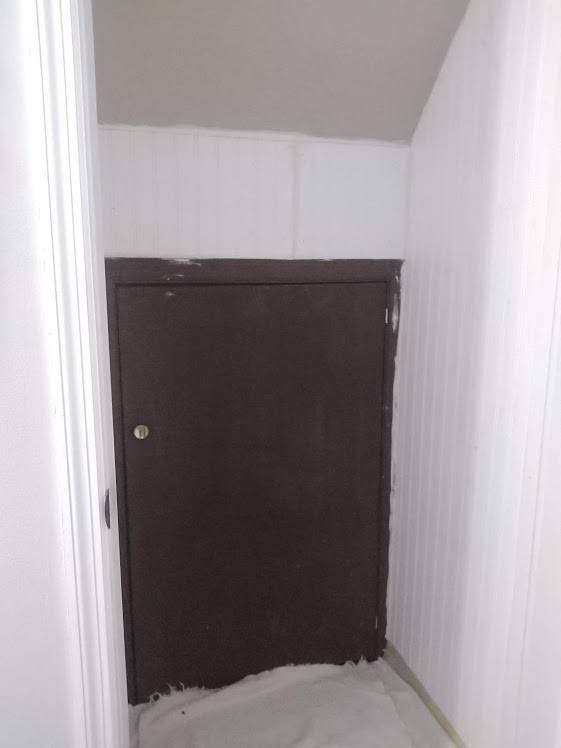 Beadboard is actually not overly expensive either! After it was all put up, the beadboard, upper ceiling, upper trim were all painted in "Retreat". The lower trim was painted in Gallery White by Behr to match the rest of the trim in the house.
Building the shelf:
We attached 1"x2" board for the base to the paneling by using a drill and screws for better support to the studs. For the shelf, we used two 1"x10" of pine board, and then glued a 1"x3") for the front to have a thicker "looking" shelf. Because the closet is taller, I thought the thicker shelf would balance out the space vs a thin shelf.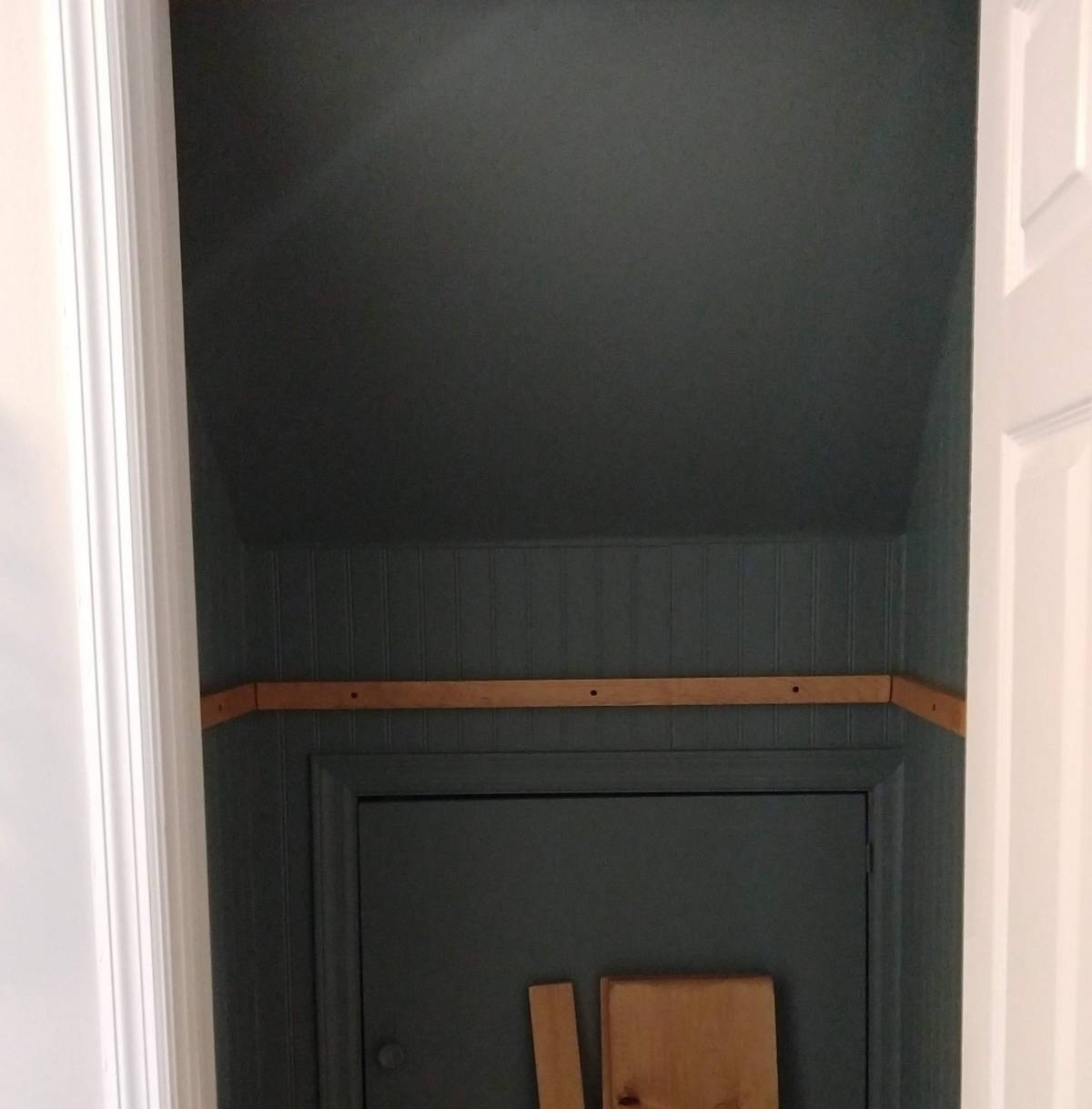 I love the front, it added so much to the space!!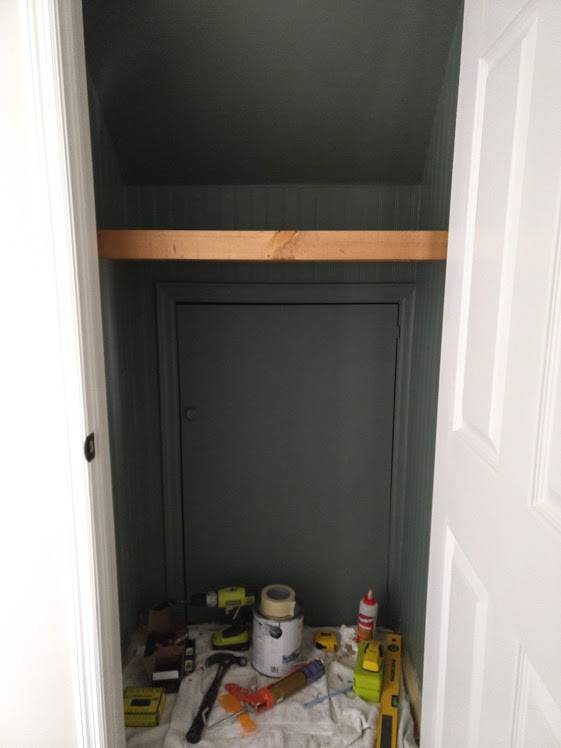 Instead of the annoying shelf with tons of slots for placing your coat hangers, we added a wooden rod that was placed into a socket piece on each end to secure it Now we can just slide our coats back and forth, so much easier!!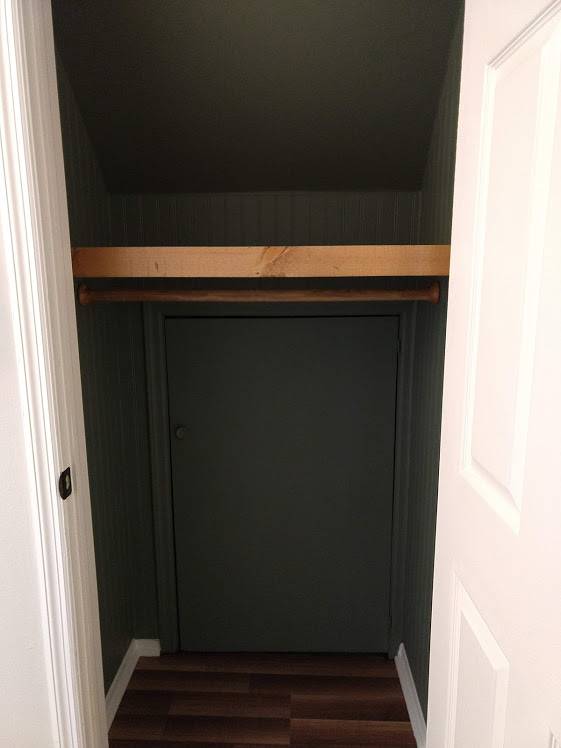 Afterwards, we stained the shelf, rod and socket set with Minwax Prestain and Minwax "Ipswich pine 221" and it turned out perfect, it makes the paneling pop!!
We also do not have electric in the closet, so this was the perfect solution! This bulkhead light was $16 from Lowes! (Here is a similar light that is linked) Before this light, we purchased one from Amazon, and  the hockey puck lights we had would not fit inside, so I took one with me to Lowe's which also did not fit this light. So we ended up buying a whole new pack of smaller lights to be sure they would work for the light. I also know we will eventually use these with something else in our home!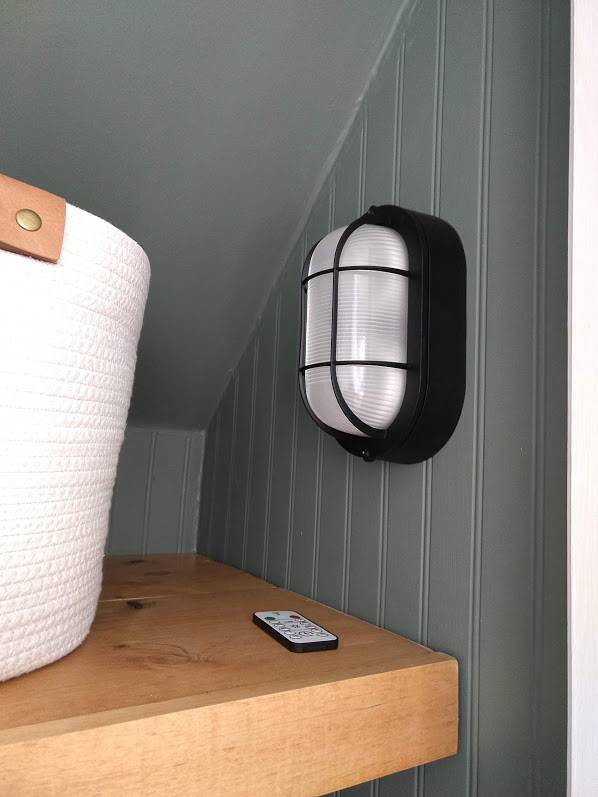 And finally the best part........
Duh, adding the decor was the best part!
So, these white woven baskets from Target are super duper cute. They are spacious, affordable and serve their purpose! As much as I was nervous them being white, I knew they wouldn't be handled much. I love how the white pops against the stained shelf!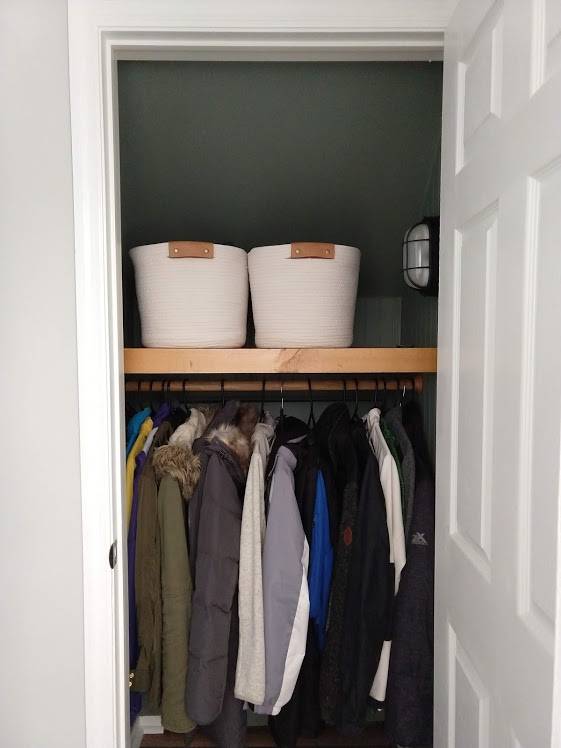 I am so happy with how this space turned out! Its beautiful and functional all at the same time. Honestly, I wish I could have done more, but it's simply a tiny coat closet and Pete and I are the only ones who use it! Some of you may be asking why we don't have anything under the coats.... Well the closet isn't very tall, and so that means the coats sit lower to the ground, even though they are placed on the wooden rod. Trust me, if it were bigger and that darn water heater wouldn't be under the steps, I would have been a whole lot more creative. But it is much prettier, and just as functional! As much fun I had writing this blog, I think it's so fun sharing it with you, enjoy!
Posted: 03/06/2020