Touching up the tops of our living room end tables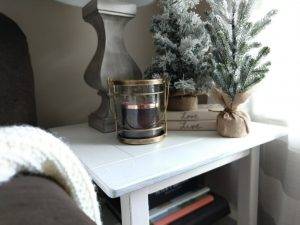 As Winters cold days approach, I have found this a perfect season to get some miscellaneous type projects completed! Previously our end tables were painted in a grey with "country chic paint and wax". Although we really liked the color, we found it hard to not show some nicks from coasters and switching out decor, so that being said I was ready to repaint! You can never go wrong with painting something white, the benefits are endless.
We go to church with a lovely family, whom own a fantastic local farmhouse decor shop and had painted our tables for us. So we went back and got "simplicity" ( which is also used as the base of our tables) in country chic paint and a clear wax to redo the tops of the tables.
How did I redo the tops?
Using 400 grit sand-paper I lightly sanded the tops, sides and underneath of both tables.
We applied 2 coats of paint.
Tips for applying the paint:

Once a smooth, thin coat is applied you are done. Keep from applying more paint over top before it is dry to prevent uneven and rough coats.
Allow for complete drying (24 hrs between each coat) before applying the next.
Paint along with the grain.
3. Used a handled sponge and applied one coat of wax over top (Allowed one full day to dry).
" row_height=225 uuid="b1c055032e5a90d67c9af7b0a49fa374"][/gallery_standalone]
As soon as these pretty end-tables were placed in the living room, it instantly brightened up the room, SCORE! It's amazing how little things can make a big difference. If you ask me, I love when we can make a small simple change and it rather makes the space feel like a bigger change was made..... and especially when it involves more DIY and less money!!!
" row_height=225 uuid="a9ddec6d9fe11280d1c3836f7e0d845c"][/gallery_standalone]
Have any questions with any pieces of furniture you have that you would like to change in your space? Or maybe you can't quite figure out what small tweak you can make to a space in your home that would make it feel like a whole new space? Well I want to tell you that I can help you out! So please contact me, I'd love to chat.
Posted: 01/07/2019