Our freshly updated patio
Wow, talk about zero crazy Winter storms, and then BAM... Summer is here!
We like to spruce up our deck early in the season so when the warm weather does hit, we are ready for some good ol morning coffee, game nights while the sun is setting and grilling out on a weekly basis. Let's just say, a little bit of a refresh can make a big difference!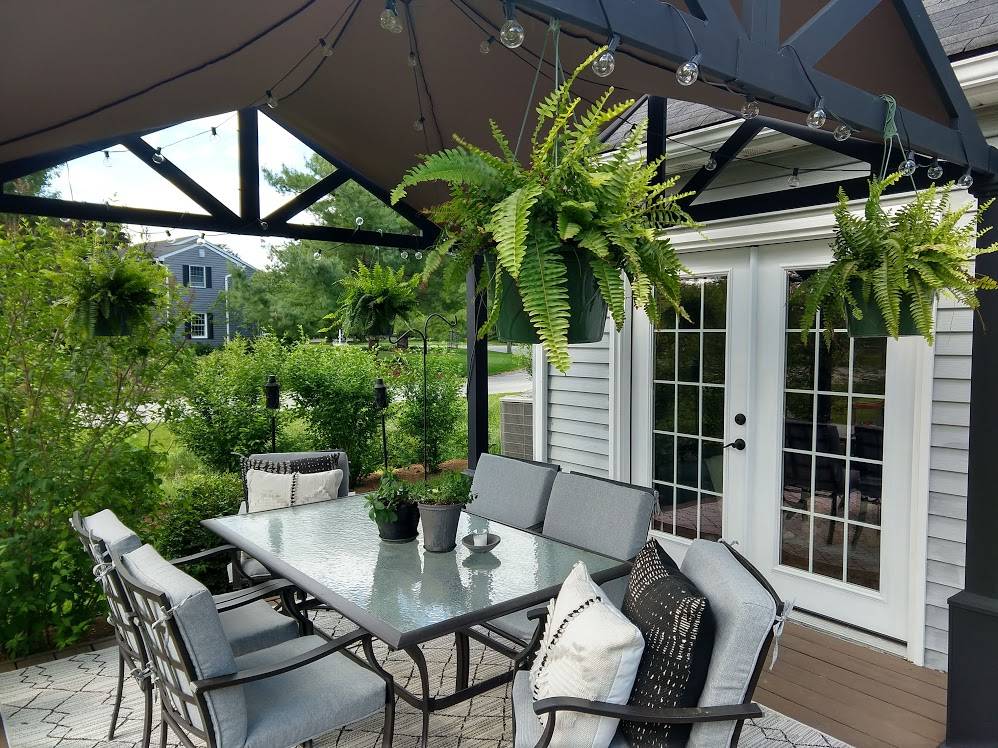 Here is what we did!
1.  Touched up with some paint
A little bit of paint did the trick! We have been using Behr's DeckOver, and we are pleased. Our deck honestly needs to be replaced, due to weak boards. But Behr's DeckOver is thick and does the trick until we do replace. And I repeat, that paint is like mud so be prepared when you go to apply, but that's why we love it! Besides touching up the deck, we brought out the black exterior paint and touched up the deck arbor. It looked good as new with a couple swipes of paint!
2. Replaced chair cushions
We purchased our dining patio set (including cushions) about 4 years ago, and you can tell it has ware and tare including the cushions. It was time to swap them out for some new and bright ones. let me tell ya, I didn't realize how expensive they are!!!!!!!!!!!!!!!!!!!!!!!!!!!!!!!!!! Holy cow! I saw anywhere from (for a mid-moderate good quality) $30+ for 1 cushion - not a set! Sets were starting at about $49+. I searched and searched, I wanted a light grey color, and a cushion where the bottom and backing were attached (making one full piece), plus it needed ties. No more Velcro! Why do I say that? Velcro was a goner in probably a span of 2 years of use.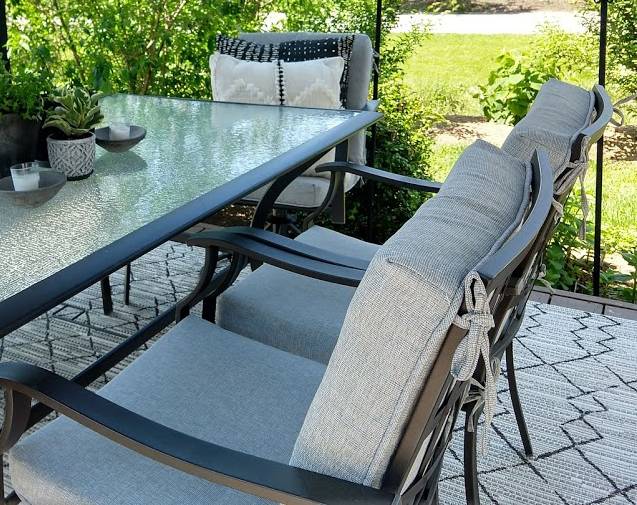 We found these Mid back dining chair cushions through Home Depot, and we love them!!!!!!!!! Here are only a couple reasons why we love these:
Super affordable ( $29.98 per set)
light grey solid color
UV resistant- fade resistant
Ties to attach to chair
Dry quickly after getting wet
Lightweight,
Form has kept with use they have gotten since we purchased them .
3. New pretty pillows
When you update your cushions I mean you need to update your pillows as well! Opalhouse line at Target hit the jackpot with these black and white throw pillows
The ivory and black are out of stock but they also were through the Opalhouse line at Target.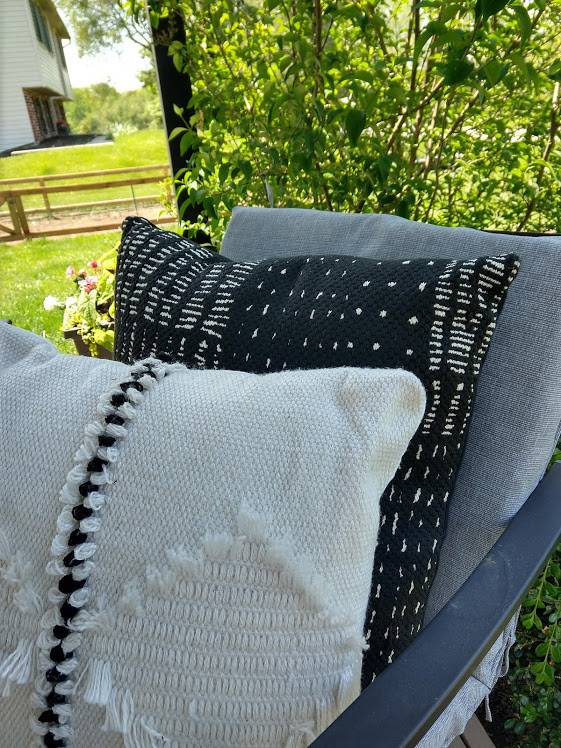 Our neutral pillows added some texture to our cushions!
4.  Updated to a new and bright area rug
As much as I loved the pop of green on our previous area rug, the more time I spend changing my style of decor and color scheme, I'm a neutral kinda girl. So I was ready to sell the palm tree rug and swap it out for a clean, simple neutral one. Target is my go to for these kind of things, and sure enough the project 62 line did not disappoint.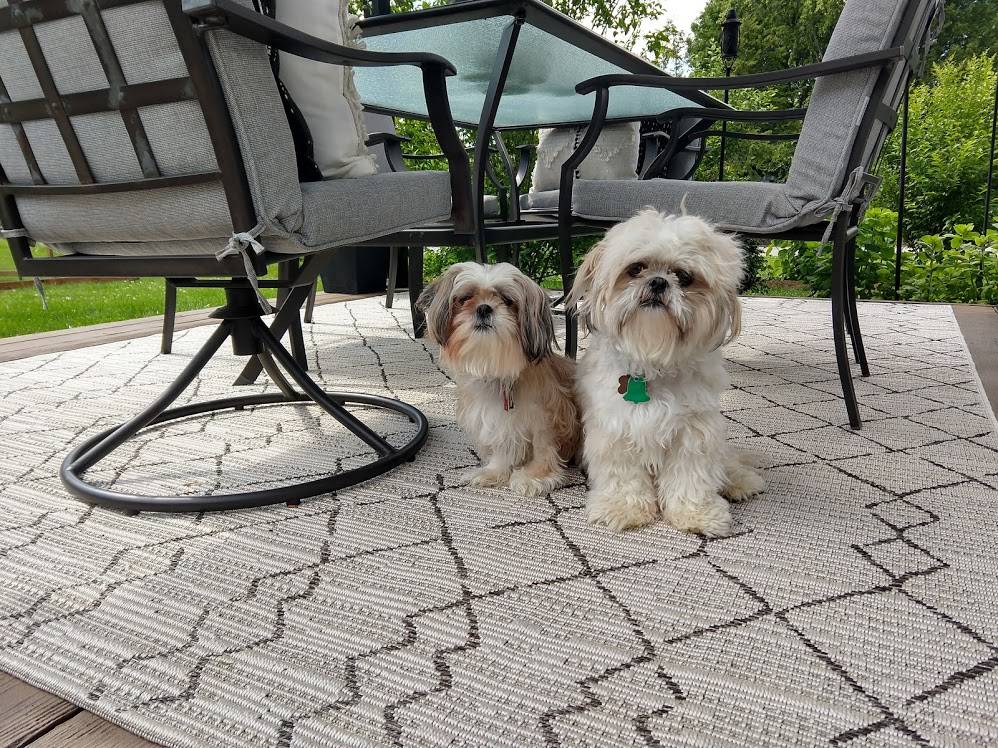 Once my eyes laid on this rug I knew I needed to bring it home with me. Ava and Tucker approved as soon as it was laid down :)
5. Added some new clay flower pots
There is a local green house, called Frey's and they sell some pretty cool stuff! Not only an abundance of beautiful flowers, but pots galore! I could honestly buy everything, it's dangerous! So I encourage you to have a list of what you need and try to stick to that.... Haha that won't happen once you step foot into a greenhouse!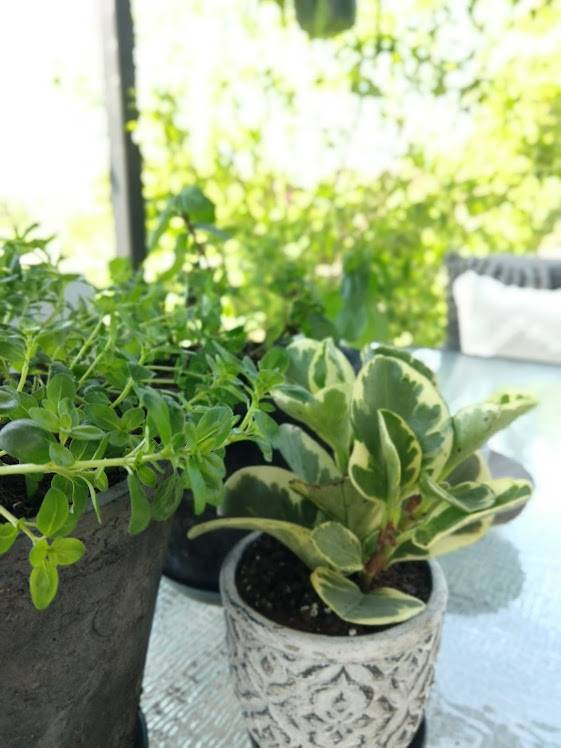 I love that these pots are handmade and I love how all three go so well together!
So friends it doesn't take much to turn a plain, blah space into something magnificent! You don't need to do as much as what we did. The biggest thing that I think for any space that will completely change the feel and mood of a space, is paint!!!!!!!!!!!!!!! So of your on a tight budget, that is my recommendation for you to do first!
Thanks for reading, I am gunna go and enjoy my cozy deck now:)
Categories: Fixer Upper couple, Blogger, Plants, Spring, Summer Projects, Lively, Paint, color!, exterior, Outdoors, Changing it up, Budget friendly, Cozy, Decorating, DIY, Farmhouse style, Home_and_living, Inpsiration, Simple | Authored by: Brittany Stevenson | Posted: 06/04/2020