A $35 transformation!
Hello! I was so excited to see that drop cloths were coming into trend, They have so many uses...... including being used as curtains and furniture slipcovers! I do not regret this $35 purchase, instead I am bragging about it! We had a hard time finding the right slipcover, because we have reclining furniture, but the drop cloths fixed the problem!
Why did we choose to add slipcovers?
We wanted lighter colored furniture
Having 2 dogs, they preserve the quality of the furniture
There are many ways to fixate this on your furniture:
Using a no sew method and just tucking away, allowing a more flowy look
Sewing and having a more fitted look
I purchased these drop cloths from Lowe's, you can also get them at stores such as: Home depot, ACE, Walmart etc. Click here for the drop cloth products. For our 3 person sofa we used a 9x12, and our love seat we used a 6x9. In store the only sizes they had were: 6x9, 9x12, and 12x15. Depending if you want a more fitted look vs flowy look that will determine what size you will purchase.
I wanted that flowy look, so it was easy peasy for us!  After wash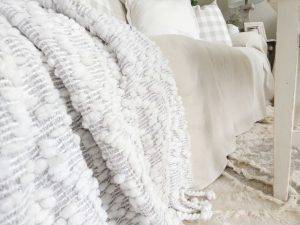 ing the cloths we placed evenly on each piece of furniture so that the cloth went JUST to the floor, and then started tucking away.
I highly recommend this to all! It easily gives that farmhouse look, changes the feel of the room, is easy care, and most important it's SO affordable!!
Thanks for reading friends! If you have any questions please don't hesitate to contact me!
Categories: Changing the feel of a room, Fresh, Interiors, Changing it up, Budget friendly, Cozy, DIY, Farmhouse style, Interior Design, Neutrals | Posted: 04/09/2019