Keeping up with the exterior!
I am excited to share with you something that we easily put on the back burner because we are so focused on the inside of our home (which is totally ok)! Not only should you keep up with the inside of of your home, you also need to care for the exterior of your home as well... Make it inviting, and the one to stand out on the block!!!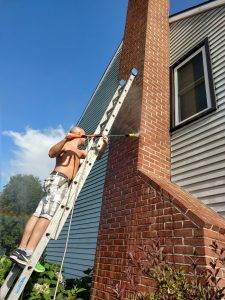 About a month ago, my wonderful parents lent us their pressure washer, as well as our neighbor who lent us his 10 ft. ladder and extendable brush. We are so grateful for all of our helpers! While we obviously have 4 sides to the house, more moisture gets to the north side because of the shade. In saying so, that side was getting film growth and was needing a washing! After a couple of hours power washing (which we got in right before the storm hit us), it looked good as new!
A great and helpful tip for y'all who plan to pressure wash, if your machine is quite powerful, PLEASE squeeze the trigger to allow blowing of water to the side before hitting the siding while on the ladder. If you are not cautious the power could easily kick you off the ladder.
Some of you are asking yourself, what did they do besides pressure washing? Great question. Listed are some other maintenance things that we have done:
Cleaning  windows
Trimming plants back/replanting/weeding
Adding mulch to flower beds
Cleaning/repainting exterior door
New outdoor lighting
Clean, stain/seal decking
Added planters
Other things you can do:
Inspect and repair roof/gutters
Repaint/replace the exterior siding
Cleaning fencing
Update furniture/padding on furniture
Switch up decor on porch/deck
Keep up with your landscaping
Thank you for reading! I hope you found this helpful as much as I did while writing it.
Categories: exterior, Outdoors, Budget friendly, Decorating, DIY, Home_and_living | Posted: 08/23/2019