Our sweet small porch filled with fall love!
Hello Friends!
I love decorating our front porch, and especially for fall! So I am excited to share this with you!
Pumpkins and lanterns were my big inspiration this year. Driving on back country roads, I loved how people incorporated different types of pumpkins, whether it was big or small, nudgy or smooth, white, green, or off-white, and stack-able! Some mums, cornstalks and straw bales were common. So after much drive-byes of porches filled with pumpkins, I was really excited to get started on our own front porch! I went neutral this year, I added some whites, and greens. You may recognize since the last blog, we have a new accent rug! This rug was purchased at Walmart for a whole $8! I chose this grey rug as it complements our light grey siding with graphite trim. Layered on top is the hello mat in which I find so cozy. I also purchased the beautiful gold lantern for less than $10. I don't regret purchasing it, as I think it adds a great pop of color against the neutral stacked pumpkins, and I can use it all year round in many spaces. As for the black one, I already had it, so that was easily included in this space.
The warty, green gourd is my FAVORITE! It gives so much character to the space. This gourd was actually bought at a small roadside stand, which if I haven't told you.... Those are my favorite! Not only do you get deals, but they have a lot of fun stuff and some rockin homemade desserts too! ;) The mums and pumpkins were gotten at one of my favorite places, the Country Barn located in Lancaster, Pennsylvania. When you visit the area, or live in the area and haven't checked them out, please do so, you won't regret it! Right now they have endless different pumpkins to choose from, gourds, mums, corn stalks, dried corn, crates, baskets, and inside they have a great selection of scrumptious baked goods, jellies etc.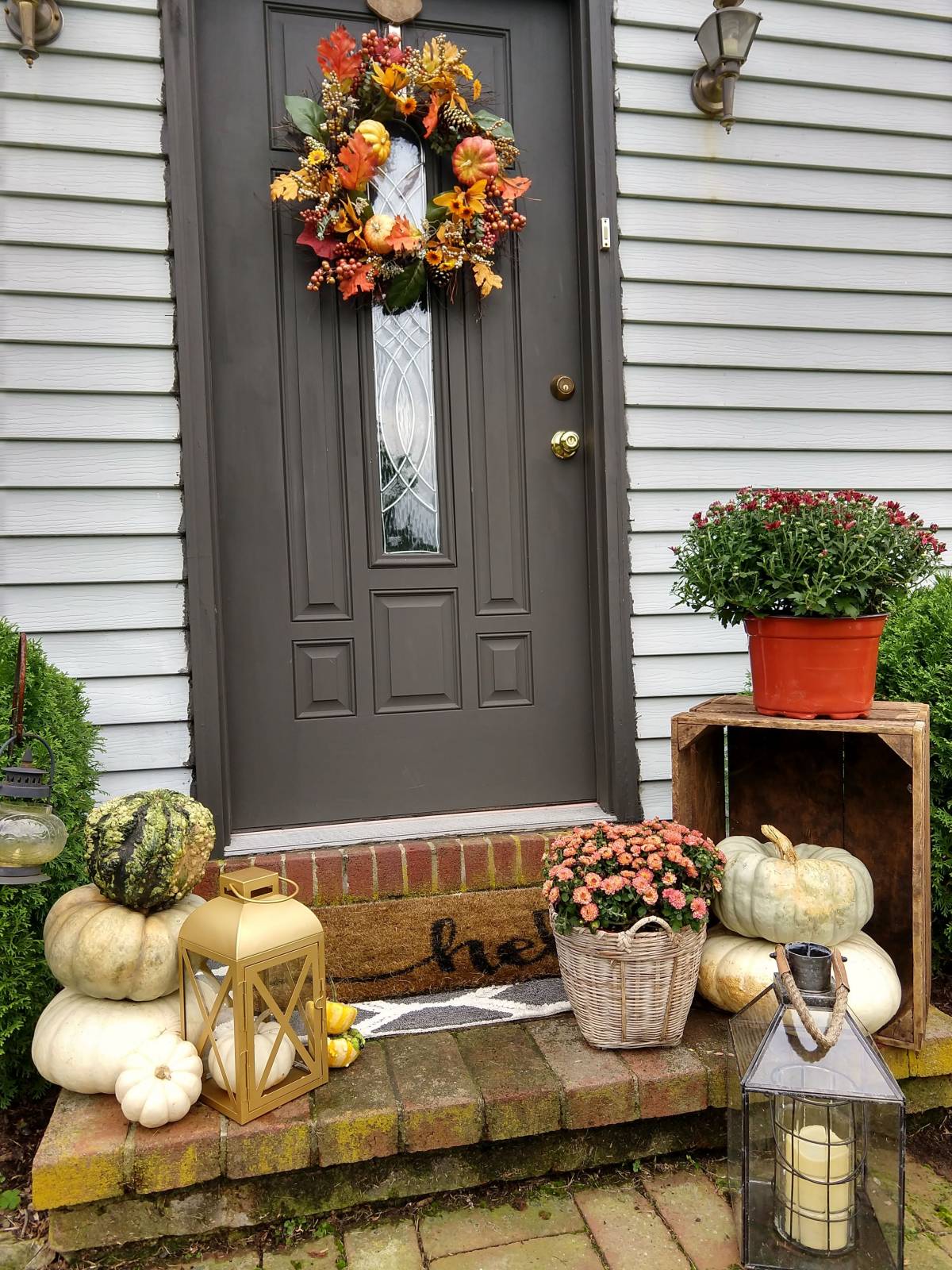 P.S. I am giving you the real-life picture here! I'm sorry for the "not so pretty" bricks, we plan to power wash them this upcoming spring! And let me tell ya... I cannot wait! There are so many projects I want to get done like: power washing, scrubbing the siding, getting new outdoor lights, repainting the front door and the list goes on.... But , I have to keep telling myself that it's fine and that it will take time!
Categories: Plants, Flowers, Lively, Adding design, Adding spice., color!, Outdoors, Changing it up, Cozy, Decorating, DIY, Seasonal | Posted: 10/09/2018