A $10 yardsale find!
I am so excited to share with you my $10 yard sale find! Spontaneously, I woke up, nudged my hubby and said "let's go yard sailing!", and so we did! I feel like when we go at unplanned times, is when we always find the goodies, and that's totally ok!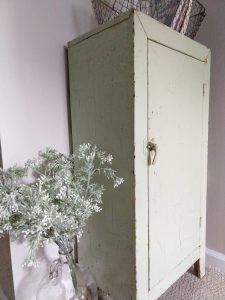 As soon as I spotted this cabinet, I knew it had to come home with us! It's the perfect size, it's MINT (mint is my all time FAV color!!!), and I love the rustic feel of this cabinet! Right before we purchased it, my husband turns and says, "Britt, do you know where you're even putting this?"
"NOPE! But I will find a spot" (with a big smile on my face). AND, sure enough, after we got home, while I was putting some things away, I instantly thought of the perfect spot! After the cabinet was cleaned thoroughly, I placed it up in the hallway and it was meant to be! Not too big, and not too small for the space. I love the pop it gives against our "agreeable gray" wall color, and how the frames (that were already there) above add to the feel of the cabinet, it just all flows so well together! :)
Before/After
We did have to move the frames a tad bit higher so that the basket wouldn't get in the way of the lower picture.... But that was an easy fix!
" row_height=225 uuid="c5d586b7f44f3d1f4c7dad5126025590"][/gallery_standalone]
Not the biggest deal, but I am trying to decide if I should paint the inside or get creative with some wallpaper?? I honestly am leaning towards not painting it, and I say that because how it is now, it just gives it so much character and so such feeling. I think painting it will take away the rustic/chippy from it, I for sure don't want that! BUT I may wallpaper it, I will update you on that in the near future! There's something about keeping at least one piece of furniture original and being ok with a lot of marking/wear&tear to add to the farmhouse style.  That being said........
You know how after you place something in it's spot and you just absolutely love it right away... and have such a good feeling about the space??? That's what I am trying to explain, and I hope you can kinda feel that as you read this post.
On a side note.... I encourage you to go check out some nearby yard sales, and find something fun to add in your home! If you do find something cool, please share with me! I plan to do more yard sailing this year:)
Categories: Spring, Spring decor, Yard sale finds!, Fresh, Interiors, color!, Changing it up, Budget friendly, Cozy, Decorating, Farmhouse style, Home_and_living, Neutrals, Simple, Small space squad | Posted: 05/17/2019