DIY tips to Improve your Deck and/or Patio
Thank you for your patience, as my husband and I just got back from an amazing vacation to Hawaii. We are sad and happy to be back!
PS. If you get the chance and/or opportunity to go, you need to GO!!!!
So I would like to share with you a few simple things you can do to your outdoor space to easily make it look like a whole new space! For example here is what we did:
Repairs
Replace floorboards that aren't sturdy or are old/rotting out (2).
Repaint
Deck
Spray Painted Tiki + Poles
Spray painted Flower planters/Shepard hooks
Metal arbor
I purchased the: Craftsman "paint and primer in one" to metal at Kmart for $6 each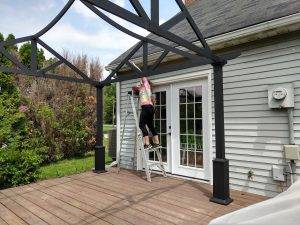 Scrub a Dub Dub
Simply used soap+ water with a high pressure setting with hose to clean out spots on the area rug
Spot cleaned chair cushions with soap+ water with a high pressure setting with hose
Added
New outdoor chair throw pillows ( from Homegoods)
Weather protected lantern ( from Homegoods)
A flower pot that perfectly adds with the new pillows ( from Marshalls)
Globe string lights ( click here to purchase)
Outdoor curtain rod (click here to purchase)
Outdoor water resistant curtain panels (click here to purchase)
Took away
Arbor Chandelier - One of the lights broke, and because the light has been dc'd we could not find a replacement. Instead we decided to add and weave string lights (that are attached) to the center of the arbor
Other things you can do as well
Add potted plants
Invest in patio furniture
Power wash patio
Eliminate weeds in patio cracks
Break down of the costs:
Behr Exterior flat paint- 1 gallon $28
Behr deck over paint- 1 gallon $35
Craftsman "paint and primer" to metal  spray paint - $6 each
Throw pillows (2 to a pack) -$20 each
Flower pot - $6
Tabletop Lantern - $15
This simple refresh sure made for a new look! A look that we both have been wanting for a bit now. After time, paint fades, style changes, and you just need to add a little to change the feel, and make for a new look! After the application of 1 coat of exterior black paint, it instantly showed off the arbor! Previously, the grey color was so faded, you really didn't know what the color was supposed to be, that goes along with the tiki torches. To match the arbor, and also allow the flowers to pop, I spray painted the flower planters, and I surely don't regret it! I was so excited to add the globe string lights, because they add so much to the space! Especially at night, when they twinkle and the lights gleam down and bring out the lush green ferns. We knew we wanted to "enclose" our arbor space a little for more privacy, and it took a bit of time to figure out exactly what we wanted to do... But we decided to add the weathered outdoor curtain panels, and we love them!!!!!! We love the pop the curtains add to the arbor, and how cozy it made the space instantly.
Side note: We decided to not put any curtains on the side(s) because of safety reasons with the tiki's and the grill, as  well as some bushes being in the way. Not a problem at all, we love the main view where the curtains were placed.
While some of the top layering of wood was peeling, we decided to not worry about replacing until we completely redo the deck and add a patio down the road. Why spend $$$ now when we can just save it, and do it right when we want to add the patio? But honestly once the "deck over" was applied, because of the thickness it helped make it more settle and not be as apparent. It actually adds more of a rustic feel, which I don't mind at all! :)
I hope you enjoyed reading this blog, as much as I did writing it!
Categories: Flowers, Fresh, Lively, Paint, Adding spice., color!, Outdoors, Changing it up, Budget friendly, Cozy, Decorating, DIY, Farmhouse style, Home_and_living, Simple | Posted: 05/22/2019