A farmhouse bathroom renovation!
The completion of this project has been seriously amazing! It has come out with a completely new look! And let me tell ya, it was in desperate need of it! That out of my system, I am ever so thrilled to be able to say that this space is finally finished. But even more, I excited that it turned out better than I could have imagined. My husband was the real hero in making this space look the way it does now that it's finished!
When we moved into this cute, salt-box style home of ours, it really did not need any work to be done. We could have moved in and not done a single thing to it and been alright. In saying so, my husband and I are having a blast making this house into our farmhouse styled home anyway, and improving what was already there!
Say goodbye to pale yellow tile, sloppily painted walls with trim, the old brown cabinet, and the non-matching toiletL
" row_height=225 uuid="e44ef38bcc2cc07c8ece3b4bfd27964d"][/gallery_standalone]
And look at this incredible turn-around! My husband has put so much time and effort into this space, and it turned out just perfect! The ugly, cream-tiled was replaced with laminate wood flooring, and with a shiny, white toilet atop of it! This Home Depot flooring we had put in throughout the whole house is so lovely It has a variety of browns and as such it can match mostly anything that we place on top of it. It also was quite reasonable for the quality that it holds.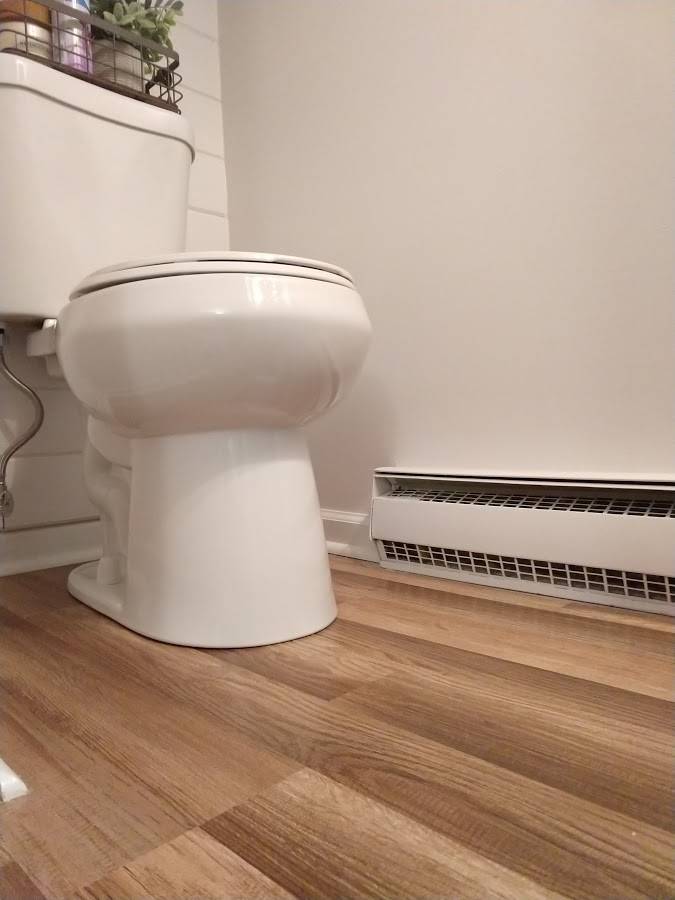 -click on picture above for the link to where we purchased the flooring-
The trim was removed and walls were painted in "Covered in Darkness" which we had mixed by Behr paint. Instantly the room had brightened up and feels bigger because of it. I fell in love with shiplap the instant I started seeing it on other blogs! Ever since I wanted it in our home so badly. And now I finally have it!!! The Shiplap has taken over our accent wall and it made a huge impact on our farmhouse styled house!
And let's not overlook those beautiful wood shelves on the wall. There is lots of personal meaning behind them. Those wood slabs are from my grandparent's barn that was situated on the rolling hills of Bradford County. After my grandfather had passed (and Grandma being in a nursing home), their farm was sold, and we were blessed with treasures from their property.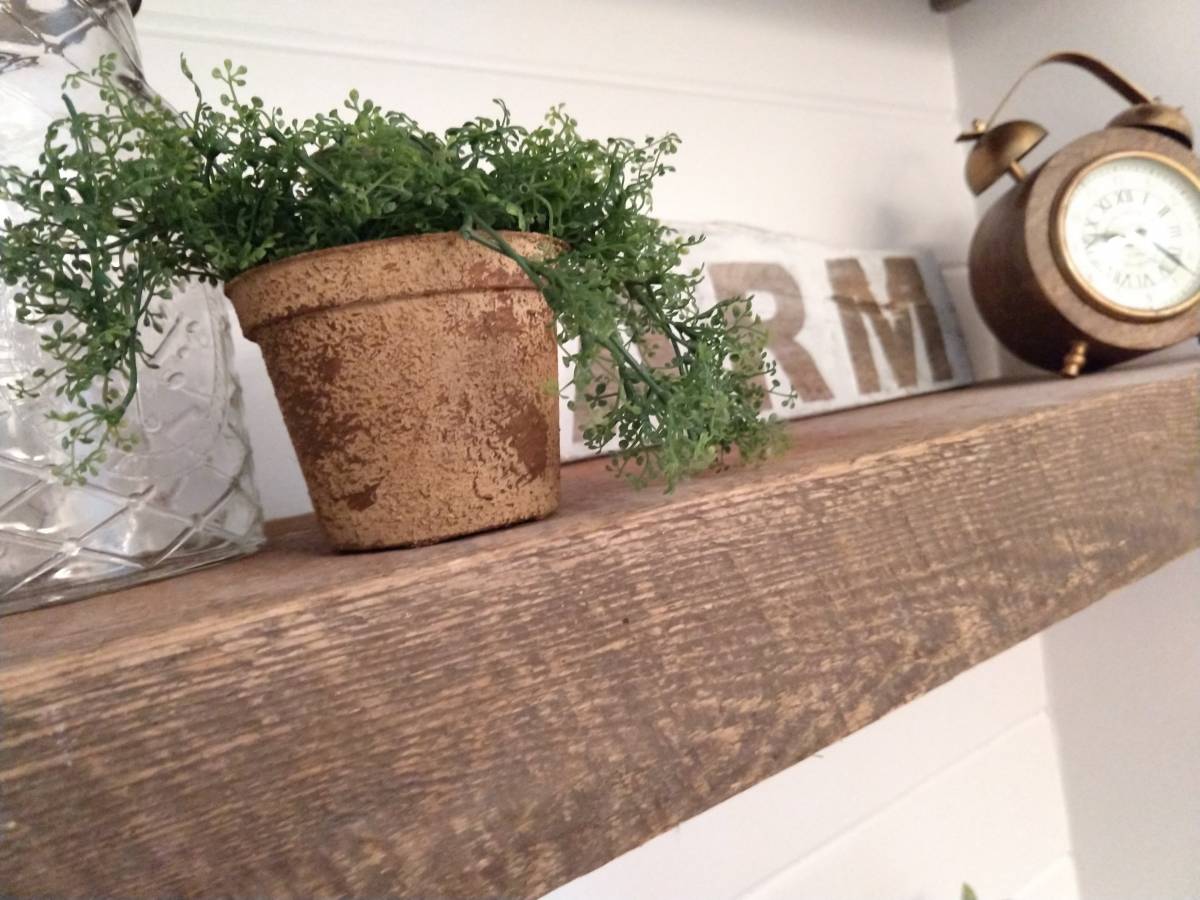 Wait, wait! That's not all that there is to it! I find this bathroom pretty unique, and a big aspect of that is the amazing sink top that was built by my husband with no plan! He marked and framed with 2x4's for the structure, and then bought pine wood that was coated with a wood finish, Provincial 211 by Minwax. Situated on top is a rectangular vessel sink, and faucet to match. I think it turned out well.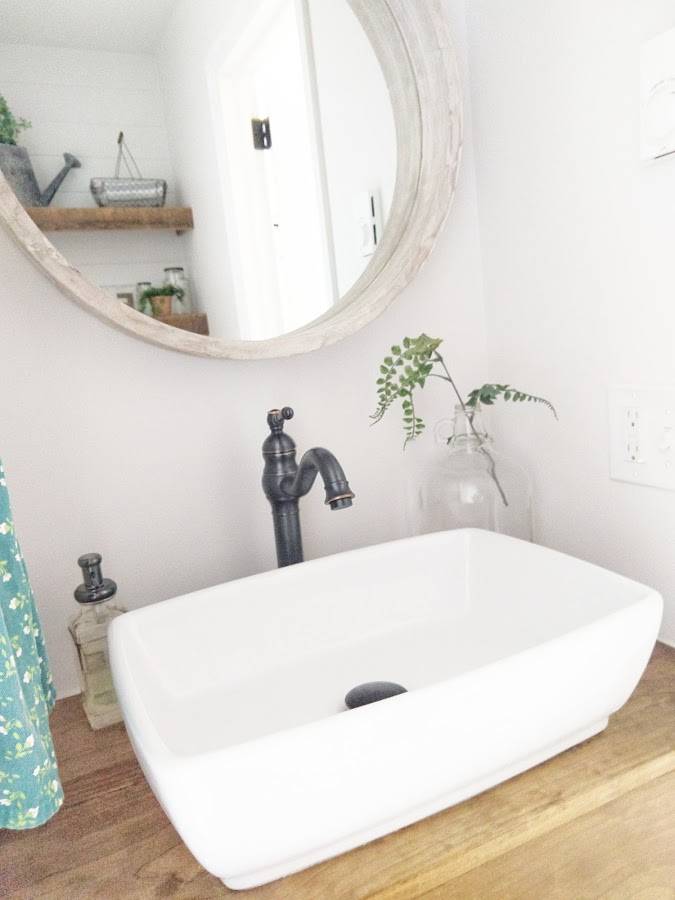 -Click on the picture above to view where sink was purchased-
We love the look of this sink on our handmade vanity top, it's unique and fits so perfectly with the space provided. It surely was not easy finding the size we needed, but once we found thee one, it allowed us to create the space we had envisioned for quite some time!
I found this great barn-styled, two-light fixture from amazon for $56. I knew it would be perfect for the space and it was an easy install. Mirrors are not cheap, and everywhere I looked I was not finding any good options for below $60 for the style we wanted. Well guess what, some random evening after work I found exactly what I was looking for, and for $39.99 at TJ Maxx! Score! I am all about getting good buys and saving wherever I can, and I know a lot of you home decorators do too, because lets face it we are always changing our decor and always wanting to do new projects right?!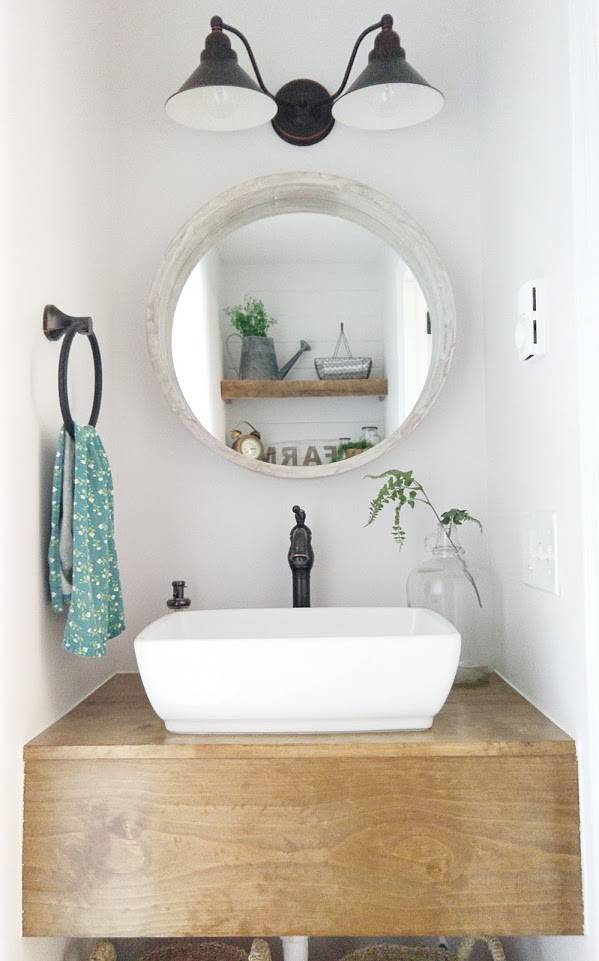 -click on picture above for light fixture purchase-
And for the total estimate cost of redoing this bathroom? Just about $400! So how did we do it? Foremost we did all the work ourselves! We took our time finding what we wanted, and searched for good deals! Amazon and The Home Depot were utterly fantastic! For our smaller purchases, we have also used TJ Maxx, Home Goods, Marshall's, and Michael's arts and crafts store.
For a few good pointers for decorating from the home decorator:
Shop around till you get the best deal!
Use home decor that you already have, most of the decorations, I used are right out of our attic!
DIY (do it yourself)
If you have left over materials from other projects, use them in your home!
Most importantly: Take your time while doing a project. It's ok if it takes longer because you're wanting to find exactly what you want to fulfill your vision, and make it as reasonable as possible.
Here is the end result! Please contact me with any questions!
" row_height=225 uuid="dc92561a3fc579b595c11086aa6d35e6"][/gallery_standalone]
Posted: 05/13/2018