Noldon Master Bath and Bedroom /August 2015/
These home owners are easy to get along with, bring lots of laughter and smiles, fun to be around, and are all-together wonderful people to hold great conversations with! P.S. They also have a cute, and very energetic little boy that keeps them busy! They will make you feel right at home, with no questions asked. I was really excited to be asked to help with the decorating of their new home!
Before:
Bedroom: Walls covered in misty tan, temporarily used television stand
Bath: Chrome bar for towel, standard containers used for brushes and q-tips.
The master bedroom and Bathroom in this newly owned home didn't suit the new owners, who envisioned something more appealing, relaxing but simple. As an acknowledgment, a master haven was created to reflect their style, interest and visualizations for their Bed and Bath.
Master Bedroom
The focal points of the Master Bedroom are the high ceilings and surrounding walls; The room has been upgraded to be mostly covered in a misty grey wall paint, with the accented wall of deep, subtle purple. The bedding delivers a spark to the look of this room, consisting of a rich purple floral, with silver outlining accompanying the comforter's grey color surrounding.This spacious sized bed has overhead lighting attached from behind the bed board that provide simple, clean night lighting, as well as highlighting the bed which sits against the large purple accent wall. The entirety of the bed faces the television, which is mounted on the wall straight across. Sitting along each side of the bed are two espresso colored end tables that service as storage and general daily use. Diagonally from the night stands resides a vast, beautiful dresser in a matching espresso color. This sits between two decent size windows that help to brighten up the room with natural light. A top the dresser is a gorgeous gold speckled lamp, to continue the modern style of this space, while helping to contrast the browns used in the furniture. The lamp helps to let off a soft white glow, adding a soft light to the room when the windows will not do. With this, a collection of chic-vintage books occupy the dresser, accompanied by a rustic/modern lantern with a tiny tea candle in the center. On the opposite side of the lamp are two, very elegant, stout candle pillars that hold different size candles covering the whole room with a sweet lavender essence. The television is hung above a decorative chest, allowing for storage and a simple touch of personality to the room and it's occupants. On top the chest sits a silver, metallic tray which holds a modern black finished clock. This space also holds an engaging series of books, and to finish it off, a misty, opaque-purple vase which contains deep purple orchid flowers. Above this, in the area between this and the tv, is a black shelf for the man's video game system and it's controllers. The couple wanted a hint of personal taste and a unique connection in their Master Bedroom. This was accomplished using sturdy, dark-espresso, floating photo shelves, adding a great contrast to the adjacent grey wall behind it. Pictures are help by unique frames, consisting of a variety of styles  sizes,and colors.
Master Bathroom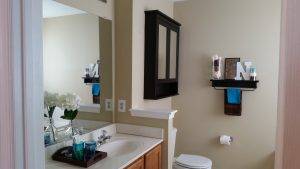 This Master Bathroom was designed as a place for functionality as well as comfort. The large, white, vibrant tub now has a unique flowing greenery along the side, adding a burst of color to this corner. Beforehand a chrome towel bar was attached to the wall, aside of the tub, but was replaced by a modern styled shelf for placing the towels. This space is also served to hold a uniquely shaped vase, holding various sizes and colored threaded balls, continuing that chic-vintage feel to compliment the modern style. On the interior of the mantle is a picture frame with a fun quote for the bathroom; To help equal out the space, a wood Monogram letter for the couple's last name is set on the shelf as well. Aside this beautiful wooden letter sits a special candle that freshens the whole room with just it's scent, also providing a strong accent to the bathroom colors of tan and turquoise. Sitting above the toilet resides a large mirror for daily usage. A covered cabinet was added, topped with a deep black color that matches the shelf aside of it. Decisively adding a low-key, dark color stain, wooded tray sit in the middle of a significant double sink vanity. A top of this tray resides two contrasting style jars that hold items use daily by the couple. Located aside of the turquoise jars rests a clear vase in which lovely full bloomed hydrangea fill it up.
Posted: 08/30/2015