OUR GUEST BEDROOM REVEAL
Our guest bedroom is finished!!! I repeat, our guest bedroom is finally finished!!!!!! Get ready for a long post with LOTS of images. We've been working on this room what feels like a long time, but it really hasn't! Painted walls, board and batten put up, electrical added for lighting, all new furniture, a few accessories later - and it's ready to share.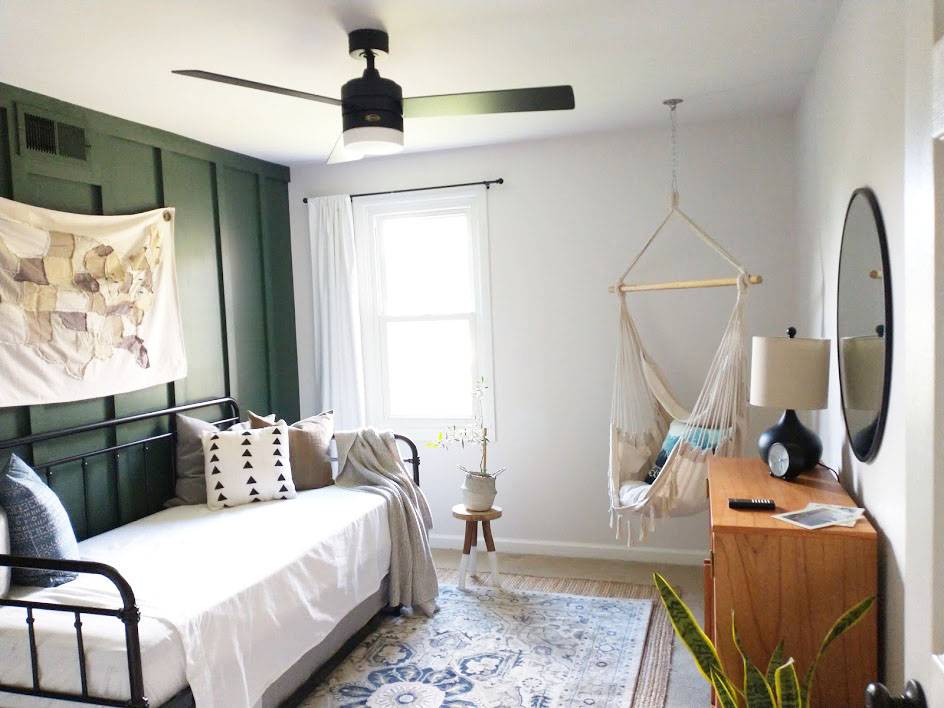 Who doesn't love a before and after! The before wasn't too "bad". But it sure was not inviting or comfortable. The closet space just wasn't working for us, we had stuff packed in there, and nothing was organized which drove me crazzzyyyyy! I love my parents to death, and I am so every grateful for them letting me use the previous bed, but the previous bedroom suit in here just needed to change. Let's face it, I used this old bedroom suit for almost 10 years!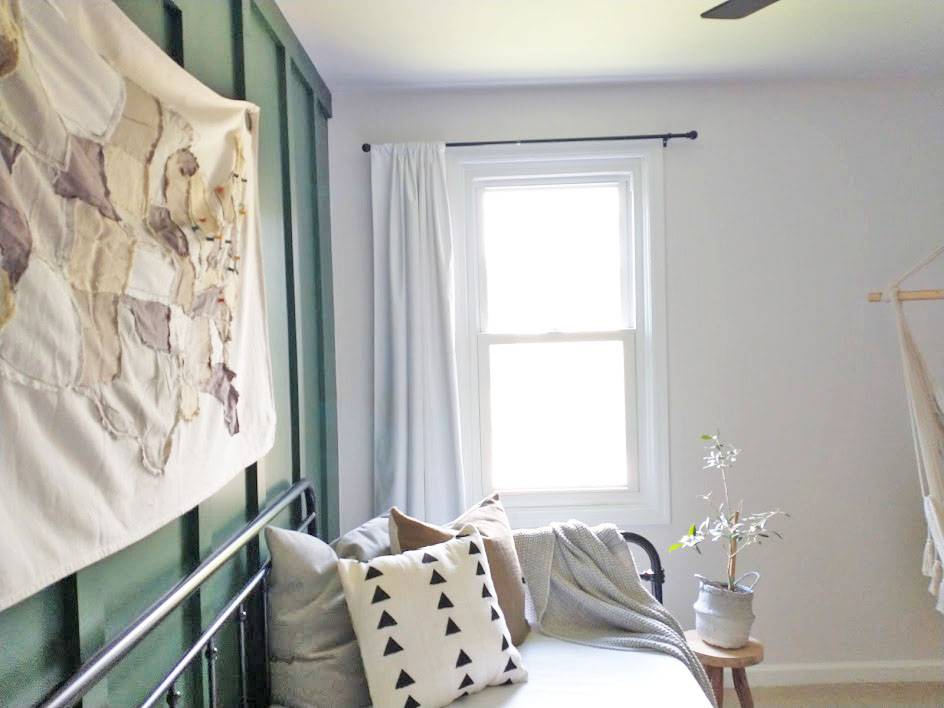 I am so happy to report, we have restored this space to the definition of cozy and inviting! Such a difference! I am really happy with how this room turned out. We've been entertaining guests since we have moved in, I finally feel like we have that warm, fun space for guests to sleep overnight.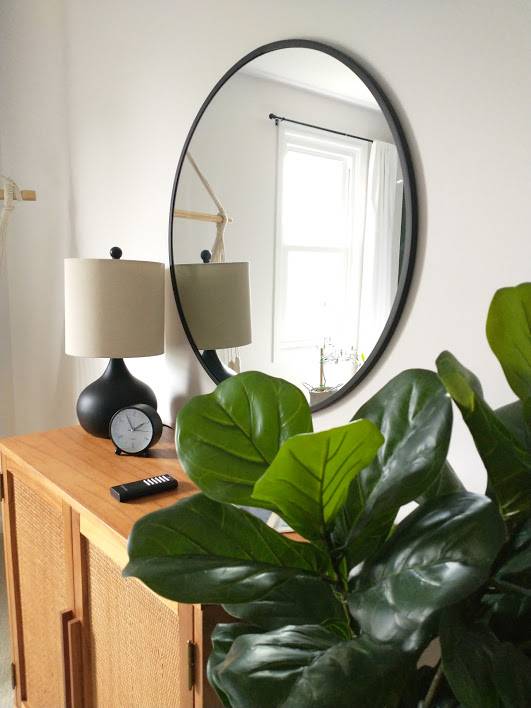 If your wondering about the beautiful blonde rattan cabinet, we purchased it from overstock. It goes perfect with the off white, warm walls. We used the paint Covered In Darkness, but mixed by Behr, all walls required 2 coats.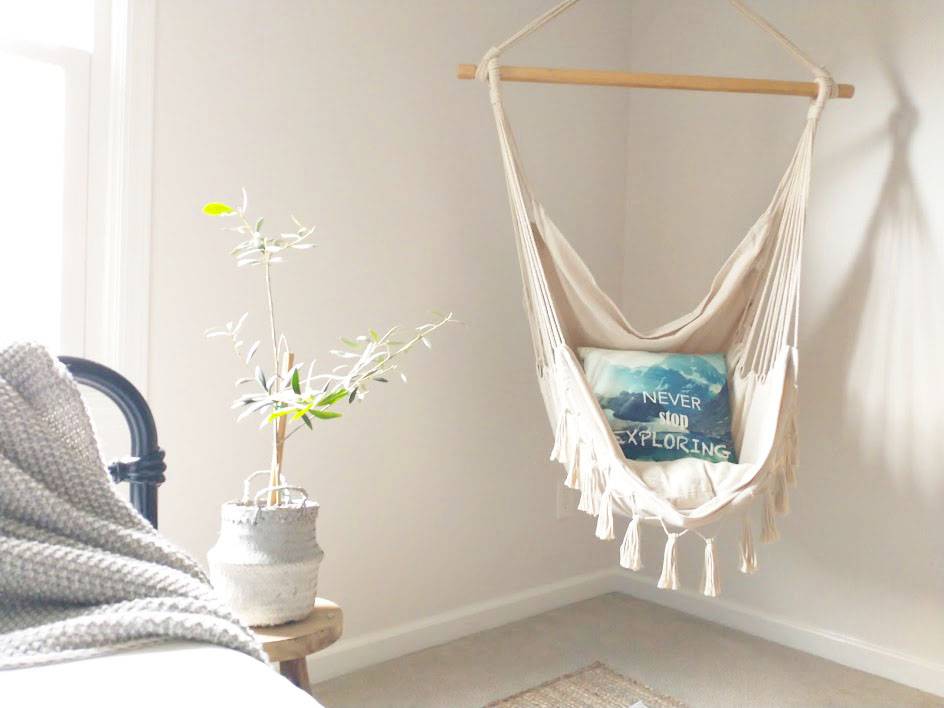 Something else I must mention is the fun hanging hammock chair. Guys, this chair is awesome! Although it looks as if its for fancy looks, we use this chair all the time! It's durable, safely assembled and is quite comfy! I think this is the primary piece that just adds the "coziness" to it.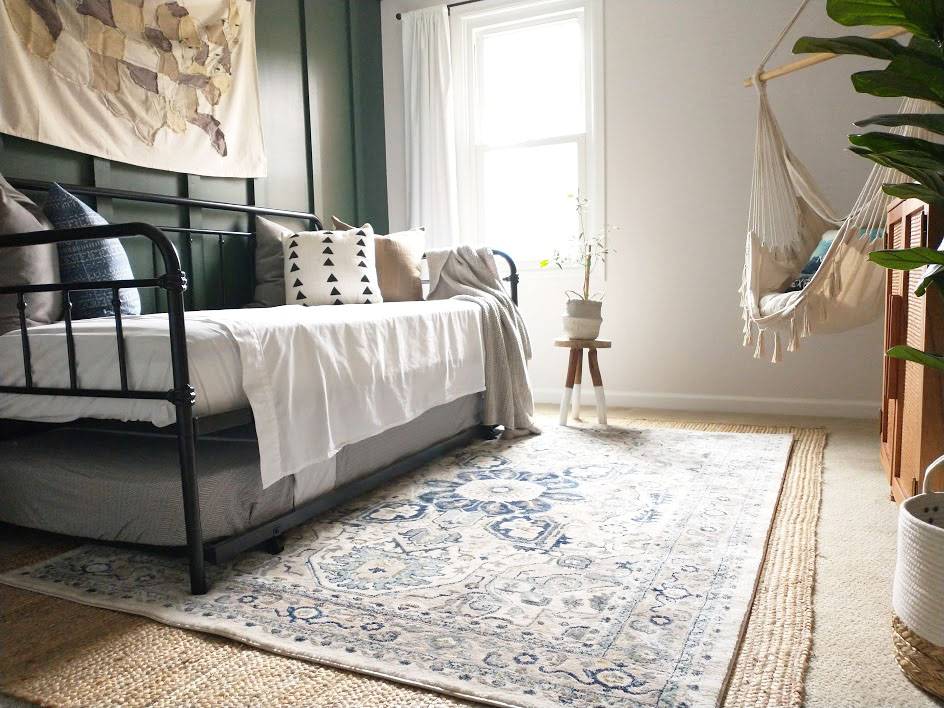 This room is on the smaller side, so we opted for a daybed with a trundle underneath. Since we do host quite a bit, it was important to still have sleeping arrangements for at least 2 people and still allow the guest room to feel comfortable, cozy and clean.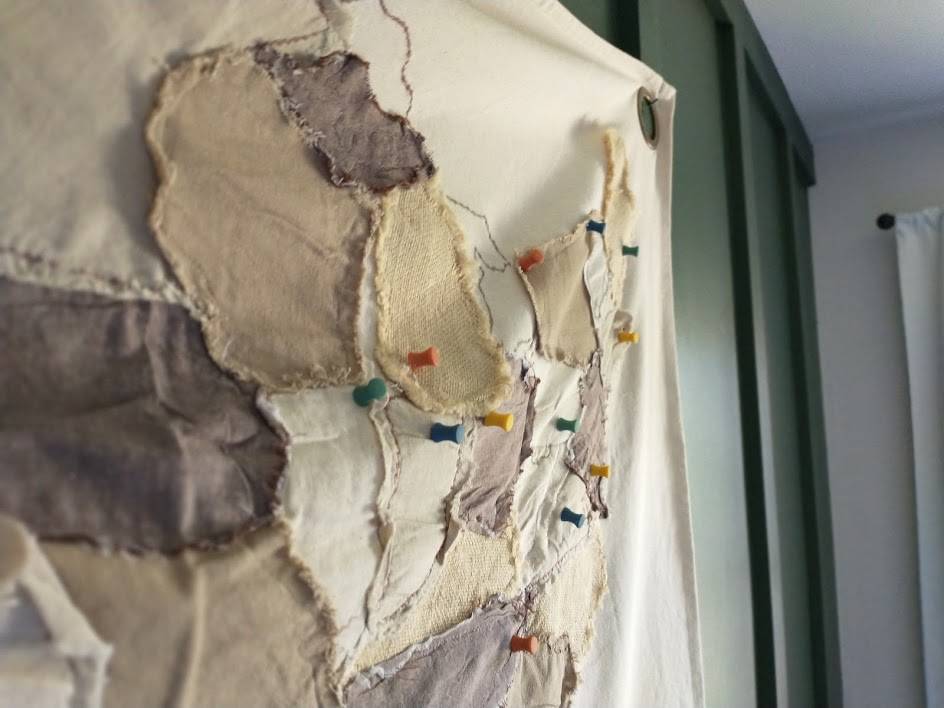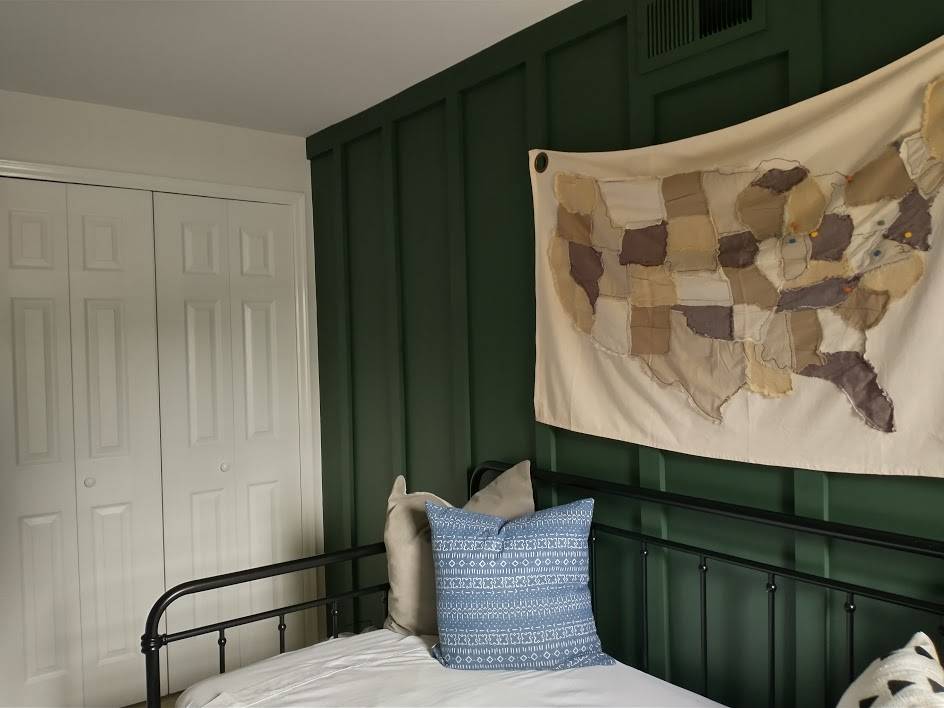 We wanted to find ways to insert bit of travel (since that is one of our favorite things to do). I found an amazing canvas wall map at a local home store for above the bed, and it fit perfectly! We added pushpins to every place we have traveled so far!  As you probably noticed we tied in some nature colors, and I don't regret any of it! I finally stepped out of my comfort zone and went BOLD! Hgtv home collection by SW nailed it!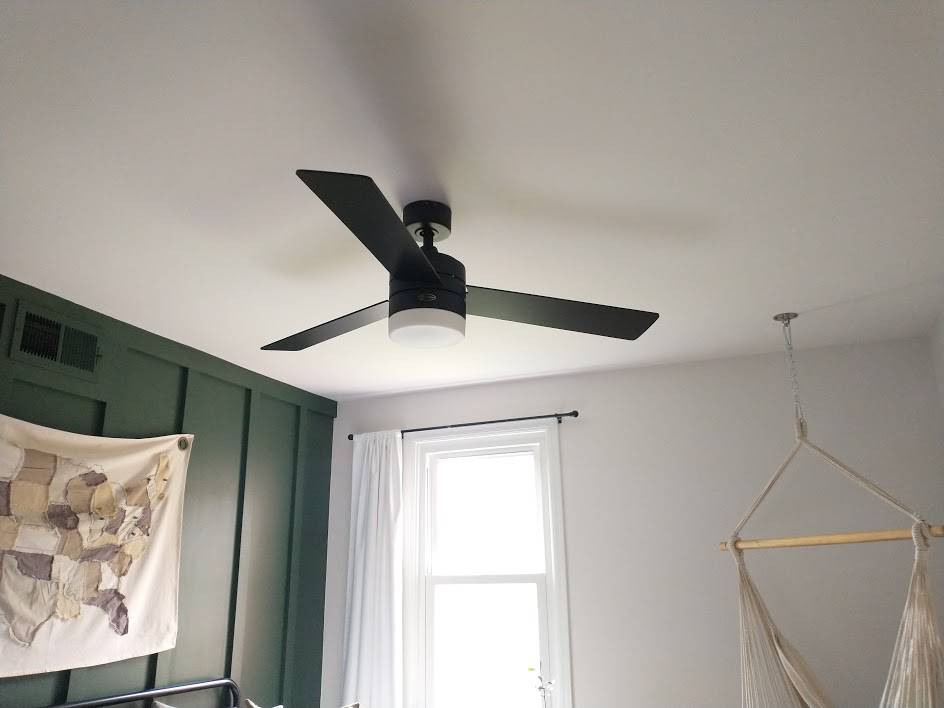 We kept going back and forth on a light, whether we should go with a ceiling fan with light or just a good ol' fancy light. The above item won the vote, and we couldn't be any happier. It's a great size, interesting shape with only having 3 blades, and it's pretty cool looking! No regrets here!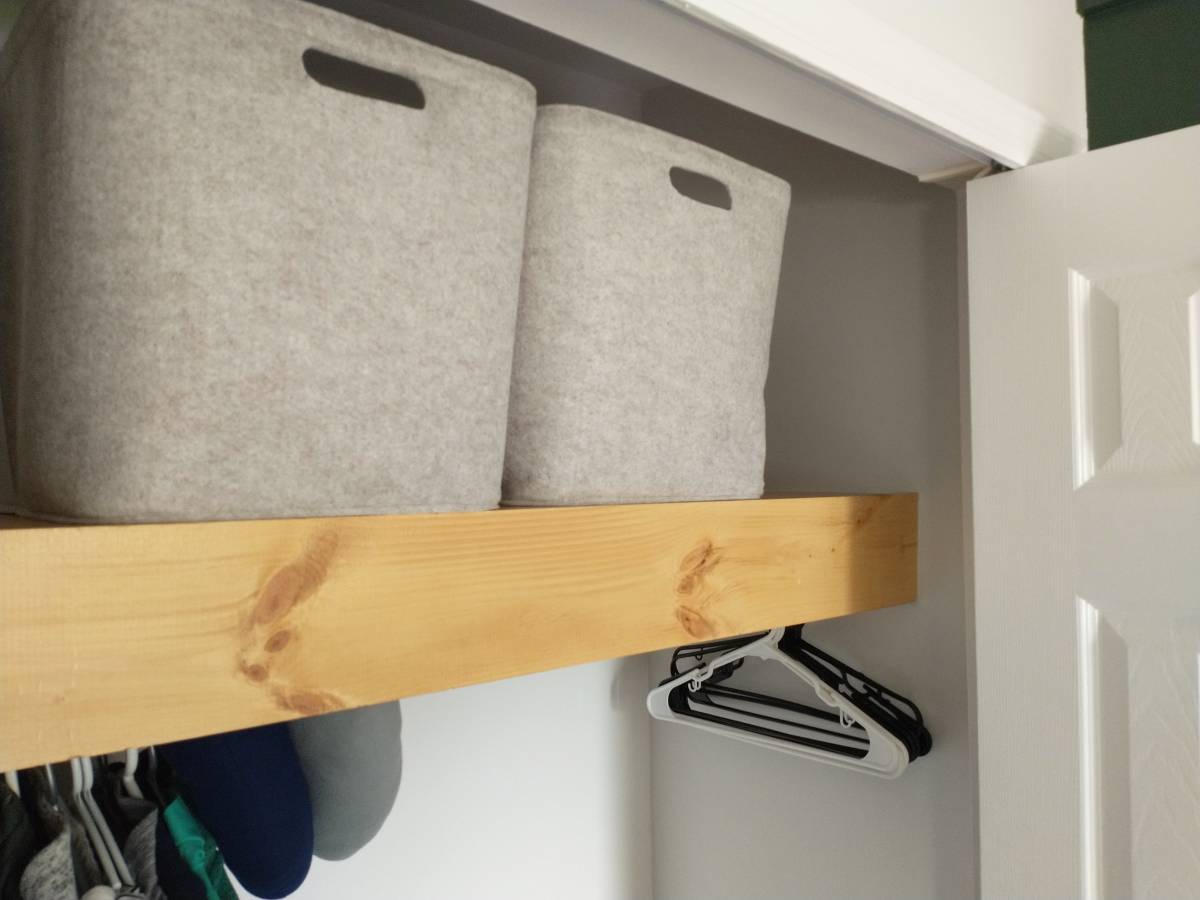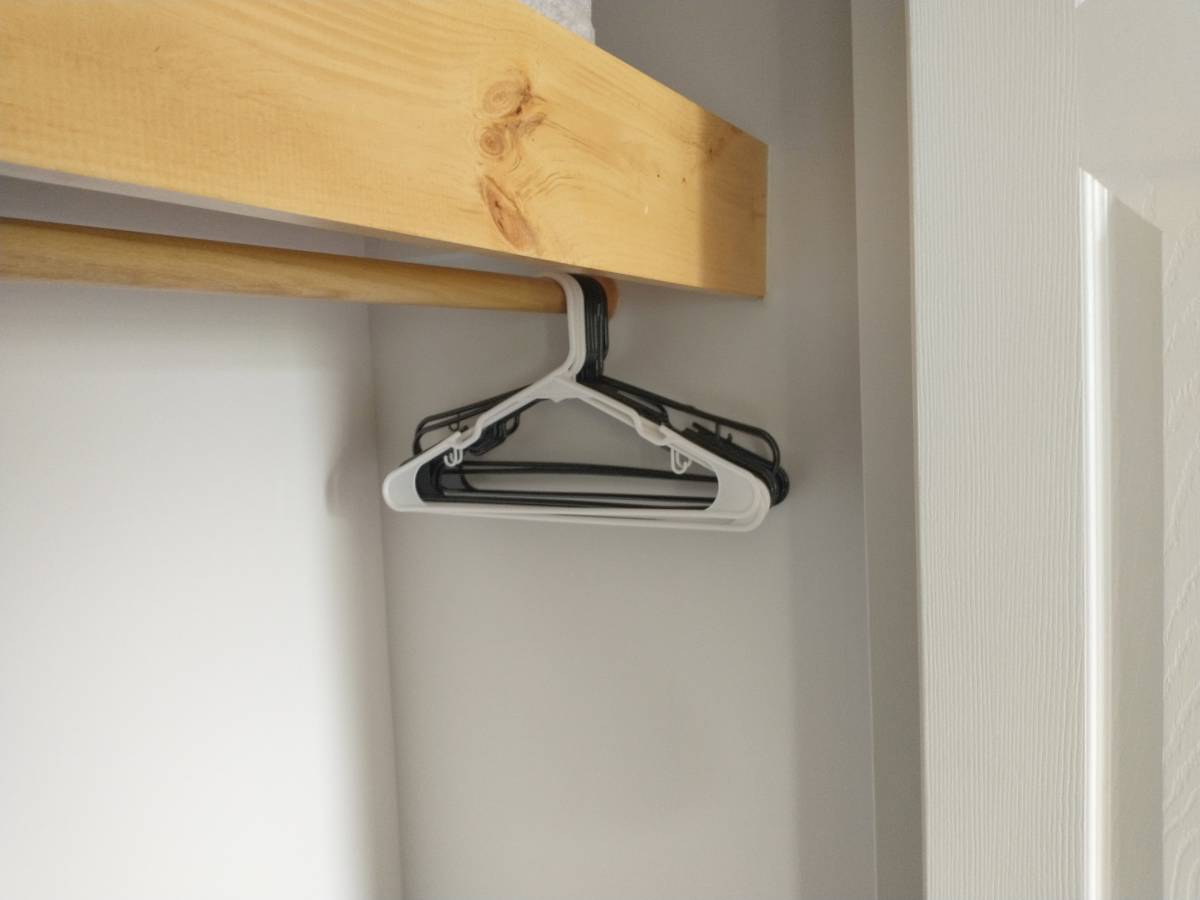 I'm sure by now you guys have a pretty good idea of how handy of a husband I have! Well he created this custom shelf for our closet, and it looks awesome! It compliments our rattan cabinet very well! 
I'm feeling pretty happy about the variety of textures going on in this room. It all started with the board and batten wall, and rattan cabinet, and I just kept going from that! The result was a cozy bedroom full of complimenting textures and colors with a twist of personalization!
I thought I'd keep you from searching all over the internet and share the links to items we purchased!
Posted: 09/04/2020