Wicker seating area DIY
What started out as an old small shed that was falling apart in every corner, has now transformed into a beautiful grey and white colonial style "she shed"! As much as I love our new shed, something was missing beside it... it felt empty, and something needed to be there.
As much as I want a little greenhouse attached to our shed, it was best that we didn't add one because it would have taken up too much space. Some of you may be saying/thinking there are multiple sizes, that we could get away with a small one. Well, I wanted one that I could stand, walk around in, have a potting table at one end and a cozy seating area at the other with string lights above... so pretty big! So instead, why not take away the greenhouse idea and instead add a seating area surrounded by a pretty flower bed?!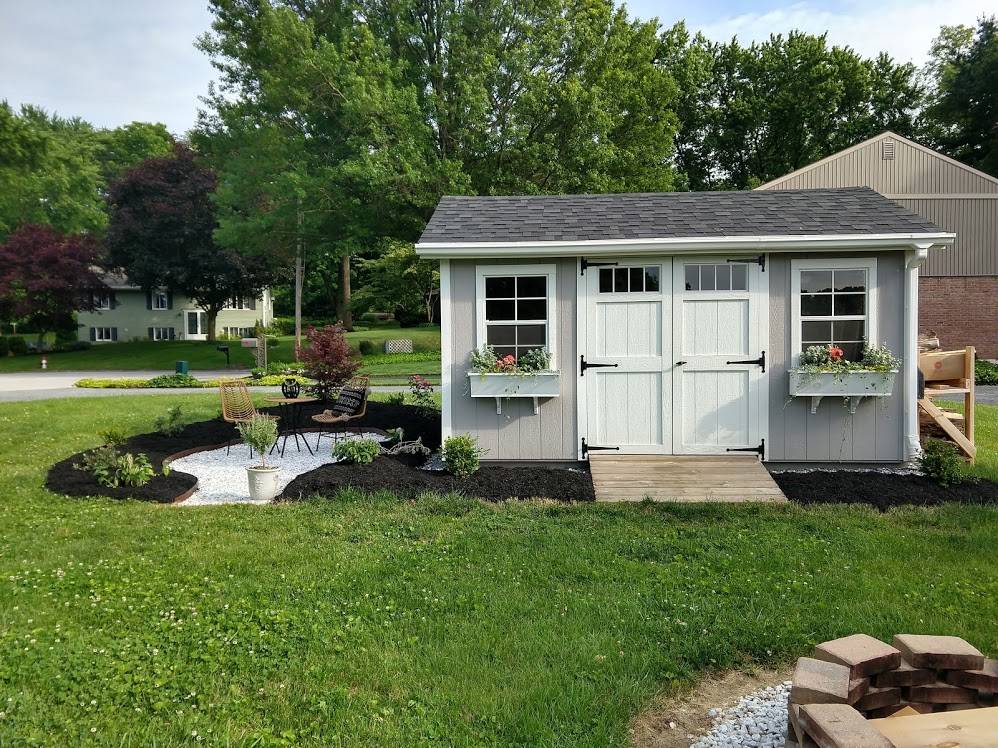 Not having a plan when to do this, or exactly what we were going to do with this seating area, this all happened all on a whim one Saturday! What started this you ask??? I was browsing around at our local Hobby Lobby and found this pretty wicker set for 50% off, and let me tell ya, we got it for a great deal! Once I brought it home, my mind got rolling, and it didn't want to stop!
Here is what I did next?
I gathered some materials on hand such as a spray paint, wheel barrow, shovel, gloves and a rake.
Spray painted the outline of where I wanted the gravel area to be
Dug all the grass up, leveled and raked for smoothness.
Added 18 bags of small gravel stone to area
Added edging between the stone and the flower bed to shape
Applied  top soil to surrounding seating area (I did not spray paint this area- we just estimated size wise for plants that we had in plan to plant)
Purchased perennials to flower beds such as: Butterfly bush, 2 Knock out rose bushes, 3 evergreen bushes, Raspberry bush, Blueberry bush, Meadow tea and lambs ear (these make for a low ground cover)
And lastly we finished off the following week applying mulch around all the flower beds!
" row_height=225 uuid="29d2ebcacc1e1320e629d15e587fb187"][/gallery_standalone]
I can now say this space feels complete! I am in LOVE! It's simple, cozy and inviting! Now that there is a cozy addition onto the side of our she shed doesn't feel so empty anymore!
Thanks for reading! Follow my instagram @our.saltbox.nest for more!
Posted: 07/09/2020